Taylor Swift Just Declared the Old Taylor Swift "Dead"
"Look What You Made Me Do" is directed at , people.
---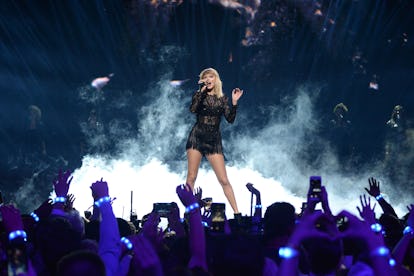 Photo by Kevin Mazur/Getty Images for DIRECTV
After months of speculation and a week of cryptic snake videos, Taylor Swift announced via Instagram yesterday that her new album will drop on November 10 and that its first single would be out the following night. And we just got it.
"But I got smarter I got harder in the nick of time" she talk-sings over a catchy electronic beat in "Look What You Made Me Do," continuing, "Honey I rose up from the dead I do it all the time," which rhymes "time" with "time," but honestly I don't hate it. As for the fact that it sounds a lot like Right Said Fred's "I'm Too Sexy"? Less enthused about that part.
Basically, it's song of vengeance about a girl with a list of names. (Arya Stark's new anthem?) And Kanye West, who along with Kim Kardashian embarrassed Taylor and sent her into a social media black hole, is the direct target of her complaints: "I don't like your little games/ I don't like your tilted stage," Swift sings pointedly. "The role you made me play of the fool/ No, I don't like you."
And then:"The world moves on / Another day another drama, drama / But not for me, Not for me / All I think about is karma."
Apparently, the Taylor who was victimized by Kimye is gone now: "The old Taylor can't come to the phone right now," she says. "Why? 'Cause she's dead."
Chapter closed.
It looks like #TS6 will have fifteen tracks; "Look What You Made Me Do" is the sixth listed on iTunes and so far the only one available to preview.
Taylor's maintained a very low profile for the past year while recording Reputation. We know she's been dating actor Joe Alwyn, but the two haven't been photographed together in public, and if she hosted her annual Fourth of July party, nothing about it leaked. She did make appearances this summer not at clubs or concerts but at the trial of DJ David Mueller, whom Swift counter-sued for assault after he groped her at an event a few years ago (he originally brought a suit against Swift and her mother for, essentially, defaming him out of his job, but that suit was dismissed). Taylor won, asking for damages in the amount of $1, and later made a donation to Mariska Hargitay's Joyful Heart Foundation, which works to help survivors of sexual assault and end the national rape kit backlog.
Oh, and last week Taylor purged the entirety of all her social media accounts. Her Instagram and Twitter bios now read: "The old Taylor can't come to the phone right now."
There were rumors that she would perform the new single at Sunday night's VMAs, hosted by her frenemy Katy Perry, but according to the latest reports from MTV, that's not gonna happen.
Related: All the Conspiracy Theories Floating Around About Taylor Swift's New Album Reputation
Katy Perry Confesses to Crying to Some of Her Own Songs: