Gigi Hadid Makes One Last Push for Voting With Prabal Gurung T-Shirt
She's campaigning for informed voting and chic dressing.
---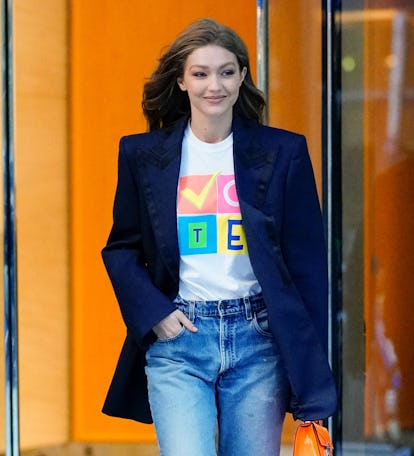 Gotham/GC Images
With mere hours to go until the midterm elections officially come to a close on Tuesday evening, candidates and their supporters are pulling out all the stops to encourage voters to hit the polls. Among these campaigners is one Gigi Hadid, who found time in her busy pre–Victoria's Secret Fashion Show schedule to get out the vote. As befits a supermodel of her caliber, Hadid campaigned for an engaged electorate not through a rousing stump speech or PSA, but with a straightforward sartorial choice.
On Sunday, while attending fittings for the upcoming lingerie showcase in New York City, Hadid donned a white T-shirt emblazoned with the word "Vote" written in neon colors. The shirt was designed by Prabal Gurung as part of Moda Operandi's "Rock the Vote" collaboration, which called on 13 designers to create election-themed tees, with proceeds going to the Rock the Vote nonprofit organization. Hadid tucked the chic piece into high-waisted ripped jeans and topped it with an oversize black blazer, and completed the look with pointy-toed black boots and a tiny, bright orange purse by Stalvey, according to Vogue.
On Monday, the 23-year-old took to Instagram to share statistics about the midterm elections, as well as a selfie video featuring the politically minded shirt. "Heading to @victoriassecret show fittings is very exciting ! ? and SO IS THE FACT THAT WE GET TO GO VOTE TOMORROW FOR WHAT IS IMPORTANT TO US AND WHAT WE WANT OUR COUNTRY TO LOOK LIKE !!!!!! Please vote tomorrow if you haven't already," she captioned the clip, in which she zooms in and out on the tee. "A lot of us have work, but polls open @ 6-7am and close around 7-8pm, check your voting location & make a plan !"
Ahead of the 2016 presidential election, Hadid was equally vocal about political engagement; on Election Day that year, she shared a selfie encouraging her followers to vote and revealing that she'd cast her own ballot for Hillary Clinton. "I felt a lot of pride being able to do it and obviously felt confident honestly in the candidate that I voted for," she told the Associated Press in an interview on the day after the election, per Elle. "And this morning, I think [I] woke up after seeing the entire election last night on TV, um, I think we all kind of woke up to, like, kind of an 'Is this real?' moment."
Though she encouraged those dissatisfied with the election results to "accept" Donald Trump as president and not lose hope, Hadid added, "A huge problem, I think, in our country is that under 40 percent [of young people] went out and voted yesterday. [Note: According to the Pew Research Center, millennial voter turnout in 2016 was closer to 50 percent.] So, you know, I think we hopefully can get it up in our next election and make sure everyone's voices are heard so that it's less—I think it's easier to accept the outcome when you know that it's truly what people want, so hopefully this will turn out as good as possible."
Related: Go Behind the Scenes of the 2019 Pirelli Calendar With Gigi Hadid
Go Behind the Scenes of the 2019 Pirelli Calendar with Gigi Hadid
Julia Garner on set in Miami, behind the scenes of her 2019 Pirelli calendar shoot with the photographer Albert Watson.

Courtesy of Pirelli
Julia Garner on set in Miami, behind the scenes of her 2019 Pirelli calendar shoot with the photographer Albert Watson.

Courtesy of Pirelli
Julia Garner on set in Miami, behind the scenes of her 2019 Pirelli calendar shoot with the photographer Albert Watson.

Courtesy of Pirelli
Julia Garner on set in Miami, behind the scenes of her 2019 Pirelli calendar shoot with the photographer Albert Watson.

Courtesy of Pirelli
Julia Garner on set in Miami, behind the scenes of her 2019 Pirelli calendar shoot with the photographer Albert Watson.

Courtesy of Pirelli
Alexander Wang and Gigi Hadid at the Carlyle Hotel in New York, behind the scenes of their 2019 Pirelli calendar shoot with the photographer Albert Watson.

Courtesy of Pirelli
Gigi Hadid at the Carlyle Hotel in New York with the photographer Albert Watson, behind the scenes of her shoot for the 2019 Pirelli calendar.

Courtesy of Pirelli
Gigi Hadid at the Carlyle Hotel in New York, behind the scenes of her 2019 Pirelli calendar with the photographer Albert Watson.

Courtesy of Pirelli
Gigi Hadid at the Carlyle Hotel in New York, behind the scenes of her 2019 Pirelli calendar with the photographer Albert Watson.

Courtesy of Pirelli
Alexander Wang and Gigi Hadid at the Carlyle Hotel in New York, behind the scenes of their 2019 Pirelli calendar shoot with the photographer Albert Watson.

Courtesy of Pirelli
Gigi Hadid at the Carlyle Hotel in New York with the photographer Albert Watson, behind the scenes of her shoot for the 2019 Pirelli calendar.

Courtesy of Pirelli
Calvin Royal III on set in Miami, behind the scenes of their 2019 Pirelli calendar shoot with the photographer Albert Watson.

Courtesy of Pirelli
Misty Copeland and the photographer Albert Watson on set in a strip club in Miami, behind the scenes of the 2019 Pirelli calendar shoot.

Courtesy of Pirelli
Misty Copeland and Calvin Royal III on set in Miami, behind the scenes of their 2019 Pirelli calendar shoot with the photographer Albert Watson.

Courtesy of Pirelli
Sergei Polunin on set in Miami, behind the scenes of his 2019 Pirelli calendar shoot with the photographer Albert Watson.

Courtesy of Pirelli
Laetitia Casta and Sergei Polunin on set in Miami, behind the scenes of their 2019 Pirelli calendar shoot with the photographer Albert Watson.

Courtesy of Pirelli
Laetitia Casta on set in Miami, behind the scenes of her 2019 Pirelli calendar shoot with the photographer Albert Watson.

Courtesy of Pirelli
Laetitia Casta on set in Miami, behind the scenes of her 2019 Pirelli calendar shoot with the photographer Albert Watson.

Courtesy of Pirelli