Kendall Jenner, Gigi Hadid, and Bella Hadid Are Officially Walking in the 2018 Victoria's Secret Fashion Show
The trio was just officially confirmed to walk in the show.
---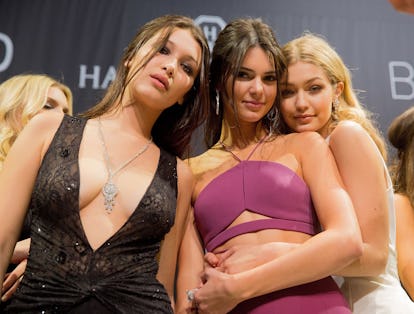 Kevin Tachman/amfAR15/WireImage
The upcoming Victoria's Secret Show is slowly coming into focus. After handfuls of models have confirmed that they'll be walking in the production, on social media, Kendall Jenner, Gigi Hadid, and Bella Hadid will officially be joining them. Today, Victoria's Secret announced that the trio will be taking the runway, as well as shared other details about the show. For one, it will be recording next Thursday, November 8. But the public won't be able to watch until it airs on ABC on December 2 at 10 p.m. ET.
While Jenner didn't walk in last year's show due to her competing contract with La Perla, she just went through a practice run of sorts. For this past Halloween, she and her sisters, Kim Kardashian, Kourtney Kardashian, Khloe Kardashian, and Kylie Jenner, dressed up as Victoria's Secret angels, complete with wings and ensembles from the actual runway. "Thank you for letting us steal your wings for the night @victoriassecret," Jenner wrote on Instagram, posting a photo from the evening.
It was actually Keeping Up With the Kardashians where Jenner had her first Victoria's Secret audition of sorts. On the show her momager Kris Jenner set Kendall up with Victoria's Secret photographer, Russell James. Kris phoned James to meet Kendall while the cameras were rolling and James obliged. He came over to Kris' home, met Kendall and, as Kris recalls, "He said, 'You're right, she's beautiful, and I can't wait to work with her'." He photographed Kendall for the book Angels and she made her debut on the Victoria's Secret runway in 2015. (She also walked in 2016.)
Jenner and the Hadid sisters will also be joined by Winnie Harlow, who confirmed she was walking in the show back in September. More recently, Harlow reflected on the experience on Instagram, writing, "I can't believe this!! Thank you for giving me all the energy and kindness in that room! Thank you for allowing me to walk for VICTORIA'S SECRET!"
Harlow, Jenner, and the Hadids will all be walking alongside models Herieth Paul, Grace Bol, Sadie Newman, Georgia Fowler, Estelle Chen, Barbara Palvin, Cheyenne Maya Carty, Maia Cotton, Lorena Rae, Kelsey Merritt, Alexina Graham, Lesha Hodges, Yasmin Wijnaldum, Shanina Shaik, Isilda Moreira, Devon Windsor, Sofie Rovenstine, Leomie Anderson, Myrthe Bolt, Megan Williams, Gizele Oliveira, Barbara Fialho, Mélie Tiacoh, Maggie Laine, Toni Garrn, Frida Aasen, Alanna Arrington, Josie Canseco, Kelly Gale, Cindy Bruna, Jourdana Phillips, and Mayowa Nicholas.
As for the musical guests, this year there will be many. Artists taking the runway will be Bebe Rexha, The Chainsmokers, Halsey, Kelsea Ballerini, Rita Ora, Shawn Mendes and The Struts. Which is all to say, there will be plenty to talk about come the December 2 airing of the Victoria's Secret Fashion Show.
Victoria's Secret Fashion Show 2018: What Stella Maxwell, Behati Prinsloo, Elsa Hosk, and the Angels Wore to Their Fittings
Cindy Bruna, outside of her fitting for the 2018 Victoria's Secret Fashion Show in New York City, October 2018.

Getty Images
Cheyenne Maya Carty, outside of her fitting for the 2018 Victoria's Secret Fashion Show in New York City, October 2018.

Getty Images
Gizele Oliveira, outside of her fitting for the 2018 Victoria's Secret Fashion Show in New York City, October 2018.

Getty Images
Jasmine Tookes, outside of her fitting for the 2018 Victoria's Secret Fashion Show in New York City, October 2018.

Getty Images
Martha Hunt, outside of her fitting for the 2018 Victoria's Secret Fashion Show in New York City, October 2018.

Getty Images
Taylor Hill, outside of her fitting for the 2018 Victoria's Secret Fashion Show in New York City, October 2018.

Getty Images
Behati Prinsloo, outside of her fitting for the 2018 Victoria's Secret Fashion Show in New York City, October 2018.

Getty Images
Kelly Gale, outside of her fitting for the 2018 Victoria's Secret Fashion Show in New York City, October 2018.

Getty Images
Elsa Hosk, outside of her fitting for the 2018 Victoria's Secret Fashion Show in New York City, October 2018.

Getty Images
Stella Maxwell, outside of her fitting for the 2018 Victoria's Secret Fashion Show in New York City, October 2018.

Getty Images
Jasmine Tookes, outside of her fitting for the 2018 Victoria's Secret Fashion Show in New York City, October 2018.

Getty Images
Devon Windsor, outside of her fitting for the 2018 Victoria's Secret Fashion Show in New York City, October 2018.

Getty Images
Leomie Anderson, outside of her fitting for the 2018 Victoria's Secret Fashion Show in New York City, October 2018.

Getty Images
Candice Swanepoel, outside of her fitting for the 2018 Victoria's Secret Fashion Show in New York City, October 2018.

Getty Images
Sara Sampaio, outside of her fitting for the 2018 Victoria's Secret Fashion Show in New York City, October 2018.

Getty Images
Grace Elizabeth, outside of her fitting for the 2018 Victoria's Secret Fashion Show in New York City, October 2018.

Getty Images
Lameka Fox, outside of her fitting for the 2018 Victoria's Secret Fashion Show in New York City, October 2018.

Getty Images
Grace Bol, outside of her fitting for the 2018 Victoria's Secret Fashion Show in New York City, October 2018.

Getty Images
Barbara Fialho, outside of her fitting for the 2018 Victoria's Secret Fashion Show in New York City, October 2018.

Getty Images
Lais Ribeiro, outside of her fitting for the 2018 Victoria's Secret Fashion Show in New York City, October 2018.

Getty Images
Megan Williams, outside of her fitting for the 2018 Victoria's Secret Fashion Show in New York City, October 2018.

Getty Images
Jourdana Phillips, outside of her fitting for the 2018 Victoria's Secret Fashion Show in New York City, October 2018.

Getty Images
Sadie Newman, outside of her fitting for the 2018 Victoria's Secret Fashion Show in New York City, October 2018.

Getty Images
Kelsey Merritt, outside of her fitting for the 2018 Victoria's Secret Fashion Show in New York City, October 2018.

Getty Images
Isilda Moreira, outside of her fitting for the 2018 Victoria's Secret Fashion Show in New York City, October 2018.

Getty Images