Leonardo DiCaprio and Brad Pitt Really Want You to Vote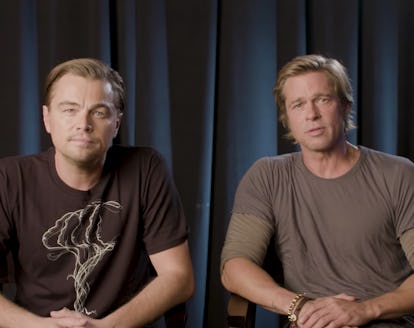 Now This
With just three days before the midterm elections, Brad Pitt and Leonardo DiCaprio are here to remind you to vote. In a four-minute-long PSA from Now This released Friday, the actors take turns explaining why midterms are just as important as presidential-term elections: "The House of Representatives, the Senate, to dozens of governors' races," Pitt says.
"So much is at stake, from gun-safety laws to immigration policy, clean water, and air," DiCaprio says—an issue particularly dear to the premier Jane Goodall fanboy—"and whether or not millions of people have access to health care." The two urge viewers to go vote, acknowledging the already record-breaking early voting turnout; by the end of October, more than 24 million had already submitted early absentee ballots, compared with nearly 13 million in 2014. (This year's early votes also actually surpass the total voter turnout during the previous midterm elections, according to NBC.)
Pitt also describes the benefits of Get Out the Vote efforts—a little meta moment before the video pulls away from the two actors to describe where, and how, voting is especially crucial and what issues are currently up for debate on various issues.
"We, voters, have the power to decide all of this," DiCaprio says at the close. "And it starts now," Pitt adds. The pair speak in the same measured tone, looking somber in their brown T-shirts (for Pitt, layered over an army-green shirt, extremely '90s)—definitely not the retro '60s garb in which they've been photographed while shooting the upcoming Quentin Tarantino film Once Upon a Time in Hollywood. They play an actor and his stunt double in the movie, (their first time coheadlining, a battle of the leading men), which centers on the Sharon Tate murders in Hollywood in 1969.
Pitt and DiCaprio's combined star power might not measure up to, say, that of last week's Jodie Foster–directed PSA, which featured everyone from Julianne Moore to Marlee Matlin to Zosia Mamet, Laverne Cox, Ellen Pompeo, and even Cher—but as they all say, every vote counts.
What It Looks Like When Dustin Yellin, Roe Ethridge, and Taryn Simon Go Back to Art School
Vince Aletti (photography critic) and Sam Clarke, Street Style, 2016.
Elizabeth Renstrom (Vice photo editor) and Patrick Arias, 2016.
Jimmy Moffat (founder of Art + Commerce and Red Hook Labs) and Sinjun Strom, Hilda, 2016.
Brian Finke (photographer) and Justin Mulroy, Tree stand, 2017.
Matthew Leifheit (Matte editor-in-chief) and Nicholas Drew, John Thomas, 2016.
Jennifer Blessing (senior photography curator at the Solomon R. Guggenheim Museum) and Sheena Weglein, Miss World, 2015.
Michael Famigetti (Aperture magazine editor) and Jason Isolini, Untitled, 2017.
Paul Moakley (Time deputy director of photography) and Phil Garber, Student, Ridge and Valley Charter School, 2016.
Hallie Ringle (assistant curator at the Studio Museum) and Amanda Louis, 2016.

©Amanda Louis 2016
Roe Ethridge (photographer) and Ana Zinn, Tropicana, 2017.
Hank Willis Thomas (artist) and Liz Mahan, 2017.
Andrew Ginzel (artist) and Jenna "Skyttle" Pasechnick, Assemblage, 2017.
Joanna Milter (director of photography at the New Yorker) and Allison Schaller, Untitled, 2017.
Peter MacGill (Pace/MacGill Gallery founder) and Alexander Setzer, Untitled, 2017.
Jennifer Pastore (Wall Street Journal photography director) and Nicole Maroon, Let Me See Your Grill, 2016.
Jody Quon (New York photography director) Maggie McKenna, still from A-Z of Being a Girl, 2017.
Kathy Ryan (New York Times Magazine director of photography) and Ramón Martinez, 2017.
Olivia Bee (photographer) and Emiliy Kendall, Millenial Angel, 2017.
Dustin Yellin (artist) and Desiree Kong, 2017.
David Sebbah (Spring Studios creative director) and Zandra Högberg.