Leonardo DiCaprio, Jane Goodall Fanboy, Leans Hard Into Environmentalism on His Instagram
The nature account you should be following doesn't belong to a National Geographic wildlife photographer—it's Leonardo DiCaprio, Oscar winner and climate justice advocate.
---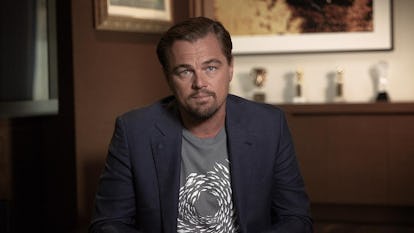 @leonardodicaprio
Leonardo DiCaprio posted his first Instagram on September 23, 2014. It's faintly yellow-hued, the white balance slightly off in the way of Instagrams on early iPhone models; in the photo, DiCaprio poses, smizing, alongside United Nations secretary general Ban Ki-moon. Later that day, he posted again, explaining he had just joined: "This seems like the perfect setting to join Instagram and share this view from the UN General Assembly. What a great honor this is. #Climate2014," he wrote, captioning an image of the crowd at the U.N. The same day (he posted six times his first day on Instagram, clearly following the Cardi B school of social media success), he posted a selfie with former vice president Al Gore (who would eventually be his peer in documentary filmmaking), describing him as a "#climatechange pioneer."
But DiCaprio's enthusiasm about the environment wasn't simply because he happened to be attending a U.N. summit on the subject. Over the past three years since he first signed on to Instagram, DiCaprio has amassed more than 20 million followers—with what is, essentially, a Mother Earth fan account. Amid images of DiCaprio himself at various rallies and protests, as well as climate-related public speaking engagements, he posts images from his own world travels (many of them, likely, culled from the round-the-world adventure that was his documentary, Before the Flood), reposts from the likes of National Geographic photographer Paul Nicklen and the ocean preservation organization Oceana (which also counts Nina Dobrev, Amber Valletta, and January Jones among its celebrity endorsers). From time to time, he also includes photos of Jane Goodall, including Goodall at this year's DVF Awards, where she won the Lifetime Leadership award and showed up on the red carpet with a stuffed monkey named Mr. H (also pictured), and in a still from her new documentary Jane. He advocates for climate justice, promotes other environmentally tinged films (like the 2015 Oscar nominee for Best Documentary, Virunga), and calls attention to environmental (and social justice) catastrophes like the Standing Rock protests and the water crisis in Flint, Michigan. Once in a while, a film poster shows up in the mix, but at least since DiCaprio joined Instagram in 2014, those have been completely relevant, too.
For example, even promotions for his last narrative film, The Revenant, fit in perfectly with his feed. (And, as every Instagram celebrity knows, it's absolutely critical to adhere to an aesthetic, be it avocado toast or rising sea levels.) The film was infamously plagued by environmental challenges: "We had a lot of complications while shooting, because it was the hottest year in recorded history," DiCaprio told Wired at the time, detailing both temperatures so low the camera equipment malfunctioned, and sudden increases in temperature that melted all the snow. "So we had to shut down production multiple times. That's what happens with climate change; the weather is more extreme on both ends." (They ended up relocating to a town on Argentina's southernmost tip, "the southernmost town on the planet," to get a final few shots in the snow.)
In fact, climate justice is so dear to DiCaprio—almost as dear as twenty-something models and dad bods—that not only is his Instagram feed and his entire eponymous nonprofit devoted to raising awareness on the subject, but he even dedicated his Oscars speech to environmental advocacy, squeezing in as many words about "man's relationship to the natural world," as he described the subject of the film, as possible before the start-wrapping-it-up music begins to play. "Climate change is real, it is happening right now. It is the most urgent threat facing our entire species," he said. "We need to support leaders around the world who do not speak for the big polluters, but who speak for all of humanity, for the indigenous people of the world, for the billions and billions of underprivileged people out there who would be most affected by this. For our children's children, and for those people out there whose voices have been drowned out by the politics of greed."
DiCaprio's next projects lean towards true crime—he and Martin Scorsese recently co-signed adaptations of Killers of the Flower Moon, based on David Grann's most recent book of the same title, and The Devil in the White City, based on Erik Larson's celebrated 2003 book—so it's not clear how, if at all, he'll incorporate those into his Instagram. And before then, he'll appear as President Theodore Roosevelt in Roosevelt, which is also a Scorsese production. Seeing as Teddy Roosevelt was himself quite conservation-minded as president, and a naturalist beyond the Oval Office, it's hard to envision a better fit for Leo—or for his Instagram feed—now that he's at last of presidential-biopic age.
Related: Why Dakota Johnson's Blank Instagram Is a Total Power Move
A brief history of who Leonardo DiCaprio has dated, and when: