Leonardo DiCaprio and Martin Scorsese, Together Again, Are Teaming Up on a Teddy Roosevelt Film a Decade in the Making
'Roosevelt' is their third collaboration announced this year.
---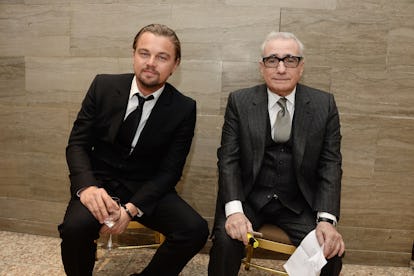 Jamie McCarthy/Getty Images
More than a decade ago, a report surfaced that Paramount intended to develop a Teddy Roosevelt biopic starring Leonardo DiCaprio and directed by Martin Scorsese. The year was 2006, and, at that point, Scorsese and DiCaprio had collaborated a mere three times over the previous five years: in 2002's Gangs of New York, 2004's The Aviator, and 2006's The Departed. (DiCaprio earned his first Best Actor Oscar nomination for his role as Howard Hughes in The Aviator.) They were certainly not novice collaborators—DiCaprio was well on his was to becoming the Samuel L. Jackson to Scorsese's Tarantino—but they had yet to make films like Shutter Island or The Wolf of Wall Street; they had yet to sign on to develop not one but two true-crime dramas for the screen; and they probably had yet to merit their own joint Wikipedia page.
But now, all those things are true—and the Teddy Roosevelt film finally has the green light. On Tuesday, various sources, including The Hollywood Reporter, Deadline, and Variety, confirmed Paramount planned to proceed with the biopic, currently titled Roosevelt. The announcement could hardly come at a better time: In just more than a month, DiCaprio will turn 43; Roosevelt first came to office towards the end of his 42nd year with the assassination of President William McKinley, for whom Roosevelt served as vice president. Roosevelt is also, perhaps, a role that DiCaprio, still a baby-faced 31-year-old back in 2006, had to age into—both literally and figuratively, considering DiCaprio's climate change activism elides quite nicely with the priorities of the 26th president.
As the first White House venture of DiCaprio, unofficial ambassador of the Green Party, Roosevelt also marks another unlocked Prestige Actor achievement. (See also: Daniel Day-Lewis in Lincoln; Christian Bale as president-adjacent and resident puppet-master in the upcoming Backseat.) DiCaprio will play the titular Theodore Roosevelt, the conservation-minded president of these United States. It's the kind of thing the Academy usually looks kindly on, so while it might not be his first film post-The Revenant, for which he won his first Best Actor Oscar, it could well be his first to put him back in the running for another top acting prize.
DiCaprio has not yet appeared in a narrative film since he won that Academy Award two years ago—instead focusing on activism efforts and traveling to vanishing environments for his documentary, Before the Flood—but he has managed to set himself up for a busy next couple of years.
In addition to Roosevelt, the actor is also slated to appear as a New York cop facing off against the Italian mob in The Black Hand, and he and Scorsese are in the midst of developing two adaptations of true-crime books, Killers of the Flower Moon by David Grann and The Devil in the White City by Erik Larsson, for the screen. (According to IMDb, DiCaprio is slated to star in just Killers of the Flower Moon.)
There have also been rumors that a Warner Bros. standalone Joker film has been courting DiCaprio as its lead, with Scorsese theoretically also on board as executive producer. The way things are going, it's only if Scorsese is producing that DiCaprio will play the new Joker, as the two are clearly not tiring of each other yet.
Miles Teller is a sucker for Reese Witherspoon and Titanic: