Jane Goodall Made Karlie Kloss Take Off Her Heels at the DVF Awards
Between Jane Goodall's stuffed animals and Seth Meyers' feigned discontent, the United Nations got raucous on Thursday evening at Diane von Furstenberg's annual awards ceremony.
---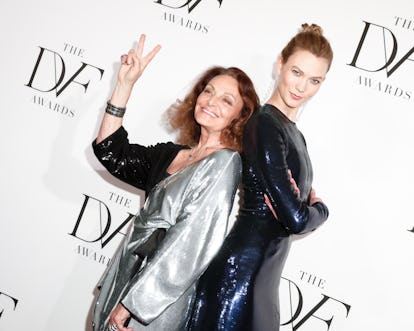 Matteo Prandoni/BFA for Diane von Furstenberg
For the past eight years now, designer Diane von Furstenberg has been honoring women who make a difference both in their communities and across the world, making for group photos stacked with stand-out women like Gloria Steinem and Hillary Clinton. At this year's 2017 DVF Awards on Thursday night, though, a male made the cut: Mr. H, a stuffed monkey eating a banana that was snuck into the frame by the famed primatologist Jane Goodall, who was about to receive the evening's Lifetime Leadership Award.
Mr. H was hardly the only friend Goodall brought along: she also had a stuffed animal named Ratty. After all, as Goodall pointed out during her acceptance speech—during which she also explained each assorted object's significance to her storied career—World Rat Day was just a few days ago, making it just one of many events in Goodall's packed week, during which she also turned 83. ("She told me that she still travels 300 days a year," gushed Karlie Kloss, one of Goodall's many fangirls that evening, as well as her fellow honoree.)
In short, Goodall, who was the picture of simple elegance with her gray hair in a no-nonsense ponytail, was causing something of a scene—not that von Furstenberg, who called Goodall her "fantasy woman," exactly minded. "She's adventurous, she's compassionate, she's everything I respect and admire," the designer said. "So I was so happy she accepted the award, which is all about using your voice and amplifying it."
Goodall is definitely guilty of the latter, having expanded on her comments last fall comparing Donald Trump's behavior to that of a male chimpanzee by not only publicly condemning the president's climate change policies last week, but making sure to allude to him several times that evening, in between recounting her lifetime love of animals (from her jealousy concerning Tarzan's choice of another Jane to the time she witnessed a chimpanzee using a blade of grass to eat termites—marking the first discovery of a nonhuman using a tool).
"If Trump does build a wall—and let's hope he doesn't," Goodall said, showing off a piece of the Berlin Wall she'd brought along with her animal friends, "that wall will come down, too."
That was hardly the only time the evening got political—it was, after all, held inside the United Nations, which had such strict security policies this time around that guests like Maria Borges were forced to wait outside for over an hour, at which point Seth Meyers took it upon himself to organize the crowd alphabetically. (Von Furstenberg, who was safely but distressedly inside, at one point exclaimed to a group of photographers that Meyers was outdoors telling the crowd, "this is how it feels for refugees").
"Everybody felt like an immigrant as you were going through security, and I'm sorry," von Furstenberg said onstage, repeating her apologies four more times before reminding the crowd that, after all, "this is the U.N." Before things could get too sticky, she then shared her own history with immigration, starting with how her mother spent 30 months as a prisoner in concentration camps including Auschwitz, which only further instilled the designer's desire to honor resilient women who make an impact—especially "at a time when democracy is under siege."
Still, von Furstenberg kept things lighthearted: she made amends with impatient attendees like Meyers and Tina Brown, and palled up with the usual women attendees that always make the awards something of a family reunion—this time around, Tracee Ellis Ross, who's known von Furstenberg since she was six, along with Allison Williams, who just got back from vacationing around Tahiti with the designer.
Her true pet, though, was of course Karlie Kloss, whom she awarded the Inspiration Award for her work with Kode with Klossy, 10 years after the pair first met. (Von Furstenberg gave Kloss her first-ever modeling job when she was just 15.)
"She's been a huge mentor to me—as an entrepreneur, as a philanthropist, and just a strong woman who uses her voice and platform to empower others," Kloss said before the ceremony before naming her only other big-time inspiration: her mother, who was also in attendance.
After the end of the evening, though, Kloss may have another woman to add to that list: The supermodel was starstruck after spending a pre-awards hour and a half with Goodall—even after she "reprimanded" Kloss for her footwear that night.
"She made me kick off my heels when we took a photo together—she was like, 'you don't need those,'" Kloss recalled with a laugh. In any case, Kloss conceded, she could hardly argue: "I'm still eight feet tall without them."
"Women's Rights Are Human Rights": 62 Fashion Insiders Speak Out in a Powerful Video for International Women's Day