Unlike Leonardo DiCaprio, Prince William Would Like to Avoid a Dad Bod Altogether
The 35-year-old royal just joined a gym.
---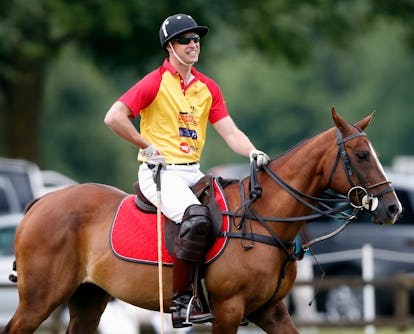 Max Mumby/Indigo/Getty Images
Some men—like Leonardo DiCaprio—wear their dad bods with pride. Others, less so. Prince William, father of two-almost-three, husband of Kate, second in line to the throne of England, falls into the latter camp. The 35-year-old royal, once a member of the British air force and an avid water polo player in his youth, has grown concerned about the physical toll of what the Daily Mail described as his "sedentary city lifestyle"—so much so that he decided to join a gym.
The tabloid reported earlier this week that William, who has been known to kick a soccer ball around or mount a polo pony from time to time, joined the Chelsea Harbor Club, an elite fitness club in London once frequented by his late mother, Princess Diana. Among the gym's sportive offerings are tennis, swimming, and exercise classes; among its less-sportive offerings are a spa, a restaurant, and a hair salon. So not only might William be able to combat his dad bod, but he might also be able to upgrade his look, too.
Upon entering the gym after dropping his son George at his first day of school, however, William reportedly put in a request for cookies he had often eaten at the gym when he was a child. Apparently, they were not available, which might be for the best because cookies are no way to combat a dad bod. (Unless cookies, rather than fitness, is why he joined the club in the first place.)
Still, just last summer, People described Prince William as "hottest in dad mode," quite the opposite of the "dreaded, chubby 'dad bod'" the Daily Mail said he fears the greatest. He and the Duchess of Cambridge have led quite the active lifestyle, too, hiking, canoeing, skiing, and rock climbing at various destinations across the globe. Did no one tell the prince that just because he's entered fatherhood, it does not mean he's going to wake up with a paunch? You have to earn your dad bod, like DiCaprio, who does not work out and brags to his rotation of twentysomething models about it. Just like the abs of your youth, Prince William, a dad bod takes work.
Rupert Friend found out time was real on his sixth birthday: