Why Dakota Johnson's Blank Instagram Is a Total Power Move
A deep dive into the existential nature of Dakota Johnson's blank Instagram page.
---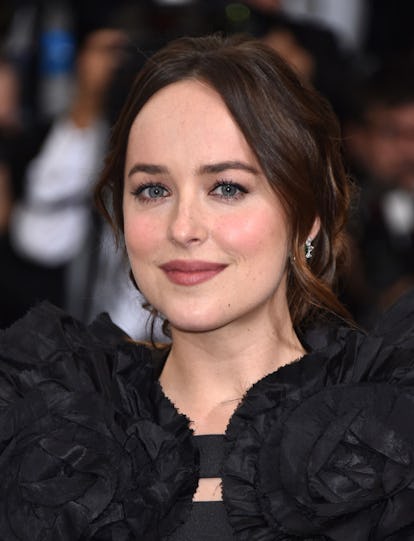 John Shearer/Getty Images
The thought experiment of analyzing an Instagram page that no longer holds the key to a starlet's inner workings might strike as a drab way to spend some pure, unadulterated scrolling time, but it is anything but dull when digging in to the right account. One might even be tempted to look at the empty Instagram page of actress Dakota Johnson and say, "There is no there there," a quote often attributed to Gertrude Stein, who was pontificating about the experience of discovering her childhood home had been demolished. But there is something there, or at least there once was. Dakota Johnson's Instagram used to be a prime destination for all the insight anyone would need, if they were interested in the life of a twenty-something starlet descended from Hollywood royalty.
Long ago, the Fifty Shades star would show off her sense of humor and creative captions on Instagram. She would post funny and sometimes provocative pictures, like this particular photo, in which she pouts at the camera and captions it, "I'll have an order of Identity Crisis with a side of What's My Hand Doing, #please."
In September 2016, she deleted all but one photo on her account, an old shot of herself from a spread with Another Magazine, leaving fans to speculate about what provoked the sudden change in content. Some might have guessed that she kept the Another Magazine photo active on her page because in her interview, she discussed an upcoming role in Luca Guadagnino's A Bigger Splash, the 2016 remake of a 1969 film by Jacques Delray called La Piscine.
At some point, Johnson deleted the Another Magazine shot, and as of right now, the only information in her bio is a link to a Planned Parenthood call to action, requesting that constituents leave voicemails with senators in an endeavor to save reproductive healthcare in the United States. Johnson's decision to wipe her entire page could have been political, or perhaps it was a personal response to feeling vulnerable and exposed online.
Celebrities receive hateful comments on their pages all the time, so it would not be surprising if comments from trolls were an impetus for Johnson to delete everything from her account. Musician Noah Cyrus recently shared that her experience with trolls on social media has diminished her confidence in the past, and supermodel Bella Hadid disclosed in an interview with W that social media makes her feel "crazy." In a February 2017 interview, Johnson also shared her discomfort with living such a public life. "I have a thing with the exposure, with the experience of the past two years. I think I went into this weird K-hole of feeling so scared of people," she told Vogue. She spoke of her current position as a scion in the industry, "I'm a pretty sensitive person, and when I don't feel protected, I tend to close right up. But when I feel safe, I think I can do anything."
Wiping the proverbial slate clean is a useful protective mechanism for just about anyone regardless of their social status, and this blank Instagram could signify a fresh start for Johnson, whose romantic life has been under the microscope ever since breaking up with her boyfriend, British musician Matthew Hitt, in June 2016. As speculation swirls in regards to which A-lister Johnson is dating now, or if she is dating anyone at all, a blank page confines those rumors to the realm of the imaginary.
While her actual page may be blank, her tagged photos are still active, and very much a gold mine for anyone looking to see who Johnson spends her time with and what they do when they hang. Earlier this year, she was caught smoking in the bathroom of the Met Gala with Bella Hadid, Paris Jackson, Ruby Rose, Rami Malek, Rita Ora and more, courtesy of Rita Ora's Snapchat. Johnson is still out there having fun, even if she is not the one sharing that information with the world. Maybe she is even using a private or unofficial "finsta"—fake Instagram, in case you didn't know—like other social media superstars do to get their fix of posting without inviting unwanted attention.
Dakota Johnson follows only 35 accounts, including a few publications, her sisters Stella Banderas-Griffith and Grace Johnson, and a Nan Goldin Archives fan page, but not her mom Melanie Griffith—who often shares throwbacks and a treasure trove of proud parent pictures of her girls.
She doesn't follow her famous dad, Don Johnson, either, and he is pretty active on Instagram as well.
However, Johnson does follow one page with posts as existential as her own blank account—the Nietzschean Texts From Your Existentialist, where "art meets texts from your existential dread."
While she can be seen on other people's Instagrams, romping around Rio de Janeiro with her famous friends for Guy Oseary and Michelle Alves' vow renewal ceremony, potentially dating either Jon Hamm or Chris Martin, and preparing for a press tour for the third and final installment of the Fifty Shades franchise, Dakota Johnson might just be too busy to post anything online at all. Still, that doesn't mean we won't welcome her with open arms, if and when she decides to return.
Related: So Is Dakota Johnson Dating Chris Martin or Jon Hamm?
See W's most popular videos: