Bella Hadid Says She Doesn't Want to Be On Social Media, "It Makes Me So Crazy"
The model and face of Dior beauty talked about dating, Shake Shack, and more during a quick trip to Korea.
---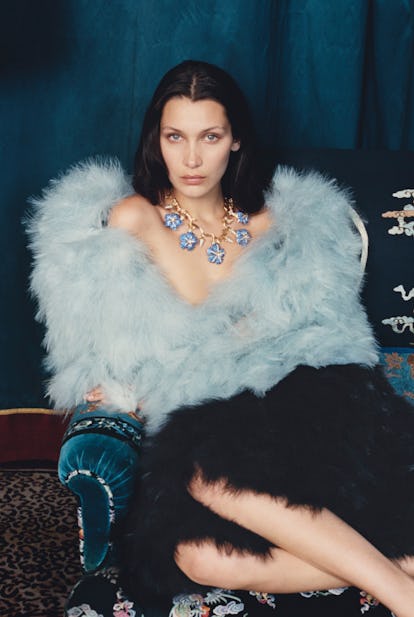 Photographs by Venetia Scott, Styled by Edward Enninful
Having traveled the world from flagship to flagship over the last year, Dior's Art of Color makeup exhibit finally made its way to Seoul, Korea this week—which means that Bella Hadid, currently the face of Dior beauty, made her way to Seoul, too. Last night, as an off-calendar event during Seoul Fashion Week, Dior threw an in-store party with local influencers, fans of the brand, and top customers. Hadid was present, as well, clad in a striking red lip and matching top. Despite some understandable jetlag, the model was characteristically animated and open, talking about everything from her go-to Shake Shack order, dealing with haters on social media, and the hue of lipstick she can't leave home without when going on "a lot of dates"—though given her crazy travel schedule, it's likely she was being more sarcastic than serious on that one.
How is your trip to South Korea so far?
Well, someone just told me that there is a Shake Shack in Korea so I'm freaking out. I'm dying that there's a Shake Shack in Seoul right now. In New York I love going, but it's super uptown.
23rd Street? You think Madison Square Park "super uptown?"
Oh there's one there? I've only been to the one way up in Times Square by the movie theater. But they're about to open one three blocks from me downtown, which is going to be dangerous. I also don't really go anywhere besides my house and work so yeah, 23rd is actually kind of far, I guess.
What's your Shake Shack order?
Double cheeseburger, fries, milkshake.
Have you done anything cool in Seoul yet?
Well, no. I got here yesterday, then today I had a shoot and came straight here. It's been a long day but tomorrow I really want to go see things. I've been here but haven't had time to explore.
You have to! Especially for beauty products.
Literally, thank you so much for saying that, because I was asking a Korean friend today to take me around to find all these amazing products and masks and serums and she was like, "Umm…ok?" And I was so confused—I thought everybody was excited about those things here! But maybe for locals it's not as new and exciting like it is for visitors.
Are you feeling jet-lagged?
I'm so jet-lagged I can't even handle it. I mean I had a great day on set, but now it's catching up a bit.
Do you have any beauty tips for helping to not look so tired?
Of course my Dior concealers. But also a lot of contour and illuminizers. There's a Flash Iluminizer that's amazing to put around your eyes and under your chin. It brings brightness to your face and I basically just slather my face in it.
Obviously you travel a ton. How do you stay fit on the road?
I still am dealing with a lot of immune problems that dealing with work is my number one [priority]. But with this job and running around so much, it's basically a workout just to work. When I go home to New York I have my trainer and he grills me and makes sure I work out a couple days before I get back on the road.
What is your favorite lipstick right now?
I've never liked having red lips; it always made me very self conscious. But when I found Dior Rouge 999, it's my number one of all time. I'm obsessed with it and it makes me feel like I'm owning red lips. Red, or a dark brown. That's basically it.
Do you have a beauty secret weapon for the perfect first date?
What? Uhh. Mm-hmm. I go on a lot of dates. All the time.
You go on a lot of dates?
Yes, in my spare time. I go on a lot of dates and put a lot of makeup on.
Would you say you are a social media addict?
I would really rather be off social media than on it. Especially these days; it makes me so crazy. When I take a couple days off social media it makes me so happy. In fact, I recently made this decision consciously, it just like sparked, that I no longer check my phone when I wake up. I think that's why sometimes you get off to a bad start in the morning, when you start your day with that energy. Like who wants to turn on their phone at 7 a.m. or whatever and see something negative about themselves?
Is that something you get a lot? Haters?
Oh, girl.
Do you just ignore?
It's hard. Everybody goes through it. It's really hard to have people watching you all the time. But that's the exact reason why I try to not look at it. Because I'm the only one actually paying my bills, right?
Related: Bella Hadid's Guide to Her Favorite Nike Sneakers
Bella Hadid, a Bubble Bath, and Jenga: What More Could You Want?