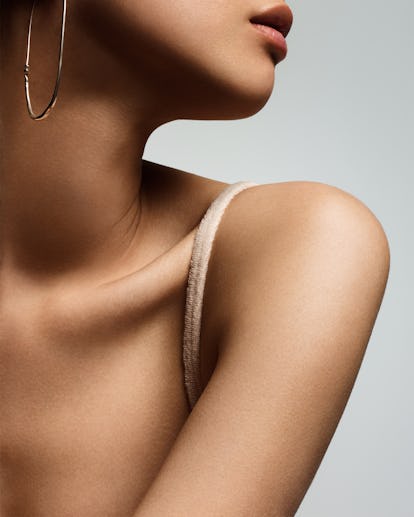 Kim Reenberg; hair by Sabrina Szinay for Kevin Murphy at The Wall Group; makeup by Susie Sobol at Julian Watson Agency; digital technician: Todd Barndolllar at Capturethis; photography assistants: Andrew Harrington, Kiri Wawatai; fashion assistant: Raymond Gee; model wears Baserange swim top; Ariana Boussard-Reifel earrings.
"Neck consults are on the rise earlier than ever," says Dr. Shereene Idriss of Manhattan's Wexler Dermatology Group. The reason? Rising complaints (both physical and aesthetic) about "tech neck," which can result from too much time bent over a phone or laptop.
To combat increasing concerns, dermatologists, skin care specialists, and facialists are implementing new strategies and techniques to minimize the visible damage caused to delicate décolletage by the repetitive tilting that goes along with constantly checking a screen. Julie Lynge, the Sausalito, California–based body therapist known for her Facelift Massage Therapy, which aims to prevent unflattering textural skin changes, recommends training yourself to arch your back, even just by reclining with a tennis ball strategically placed between the shoulder blades, which is enough to lengthen shortened chest muscles that accentuate fine lines across the décolletage. "Everything is connected to your neck," she says. "Constantly looking down creates micro-movements in your face that weigh on the skin." The healing power of touch is equally embraced by New York's FaceLove team, whose pop-up at tenoverten's culty Fulton street salon offers treatments like their PureLove massage, mixing acupressure, facial exercises, and neck and shoulder manipulation to boost circulation and recuperate lazy muscles.
For a more extreme approach, new microcurrent and radiofrequency therapy devices are at the forefront of non-invasive options. At Mario Tricoci's illustrious Chicago day spa, clients are booking repeated sessions of the new Powerlift 2.0 Youth Firm for Neck and Decollete treatment, which implements Dermasound technology to address sagging and laxity. The multi-step process includes exfoliating skin with a mix of ultrasonic waves and pure water, multiple passes of a microcurrent wand that instantly lifts skin and stimulates collagen production, a smoothing peel for "neckband wrinkle reduction," and finally an ultrasonic product infusion that allows line-plumping ingredients to penetrate 10,000 percent deeper into the skin than they could from applying by hand. For an appointment-free lift, the just-launched Newa Skin Rejuvenation System is the first of its kind to administer 3Deep Radiofrequency technology in an at-home device. The handheld, when smoothed across the jawline with its activator gel, penetrates energy into the dermis to stimulate collagen painlessly—and with clinical studies showing a reduction in wrinkles and sagging in as little as a month, it rivals the results of old-school injectables without a long winded trip to the dermatologist.
Dr. Idriss encourages caution, though, as a social media obsession has contributed as much to the perception of the problem as it does the cause. "A handful of patients fall into what I like to call the danger zone of perception versus reality," she explains. "Under the wrong guidance, these patients run the risk of undergoing excessive treatments and eventually changing their appearance altogether, which is usually not a good look."
Dr. Sarah Arron, Associate Professor of Dermatology at the University of California, agrees. "In the modern day we blame it on our cell phones, but I wonder if Renaissance ladies blamed neck woes on hours spent bending over needlepoint!" she jokes, of rising complaints of Teck Neck.
Whatever the cause, "having a good skin care regimen for the neck and décolletage is a must," she says, recommending three must-have staples in your medicine cabinet: A retinol-rich product like HydroPeptide's new Nimni Cream to boost collagen, a vitamin C serum like Lather's paraben-free Vitamin C Peptide Renewal serum to brighten and smooth, and, as we've come to expect, rigorous sunscreen application with an SPF of at least 30. Juice Beauty's organic SPF 30 Oil-Free Moisturizer touts an antioxidant-packed formula to step up the skin-friendly benefits of your UV-free routine. Aside from those textural changes that are "easier to prevent than to treat," Dr. Arron touts the power of a simple, familiar exercise that both relaxes platysma (the muscle fibers extending from the collarbone to the jaw) and reduces jowls. Her timeless remedy for one ultra-modern ailment? "Look up and smile."
10 Celebrities Who've Quit Botox and Fillers Throughout the Years
Watch: How to Take a Selfie Like a Supermodel