Model Soo Joo Park's Insider Guide to Seoul, from Korean Face Masks to Hidden-Away Drag Bars
The famously platinum-haired model gives us a tour of her favorite hot spots to shop for local designers, eat offal, and party the night away.
---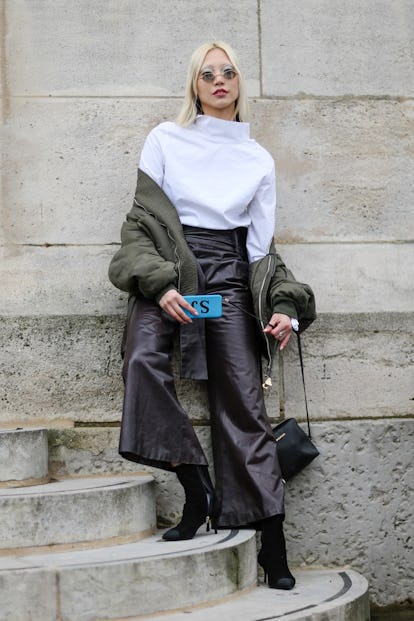 Edward Berthelot/Getty Images
Though the platinum-haired Korean model Soo Joo Park is most often found jetting between Paris and New York for gigs like Chanel's most exclusive runway show, every few months she is sure to make an out-of-the-way pit stop. "Seoul is my hometown," Park said from South Korea. "I was born here, and it will always have a special place in my heart." In town last week around to party with Céline and revel in the rest of Seoul Fashion Week, Park, who's this month's W Korea cover star, paused to share her insider's guide to the city, from her friend G-Dragon to a drag bar hidden away in the hills.
Favorite neighborhood:
I like the Hannam area—it's cute and filled with cute stores and museums.
Favorite places to shop:
For casual clothes and little things, A Land, little shops in Hannam and Kyung Ri Dan, Doota in Dongdaemun. For finer things, I like going to department stores like Shinsegye and Corso Como.
Best places to thrift and vintage shop:
Thrifting and vintage shopping aren't things I usually do in Seoul; to be honest, I'd recommend that in Tokyo or Paris. But if you want, there are old outdoor market laces called Pyeong Hwa Si Jang by the East Gate (Dongdaemoon) and Dong Myo Si Jang, by the shrine further up north. And there's always great street food sprinkled along the markets that you can enjoy.
Mad for Plaid: Seoul Street Style Goes Grunge
Favorite Korean designers:
l love designers that always have their own perspective; Fleamadonna and Steve J & Yoni P are cool and hip. I also have a lot of respect for the label Miss Gee, who makes formalwear and more refined clothes, from her atelier and factory based all here in Seoul.
Favorite Korean music:
I don't really tend to listen to Korean music… I like my friend, G-Dragon, and what he does, though.
Favorite places to see art:
My favorite museums are Daelim Museum and and its extension, D Museum. It's quite small, but they always have great exhibitions of contemporary artists often in photography and fashion, like Henrik Vibskov and Nick Knight. There's alo Leeum in Hannam (River North), a museum in three buildings built by world-renowned architects Rem Koolhaas, Mario Botta, and Jean Nouvel that houses contemporary and traditional art.
Favorite restaurants:
For fine dining, I love Dadam in the posh area of Cheongdam, because it's refined and healthy. I like the hip area and mood of Hideout Seoul in Itaewon, and the West Corner near the Kyeongbok Palace for their wine and beer selection. Koreans also have the best and speedy food delivery service—my favorites are Superjip, a Korean fast food spot, and Saddo Fried Chicken.
Favorite local food:
Gopchang, grilled intestines—they say it's full of collagen—and ddukbokki, spicy-sweet rice cakes.
Favorite bar or club for going out:
Trance, a little drag bar up on the hills aptly named "homo hill" in the Itaewon district.
Favorite place to stay:
The Park Hyatt is nice, but a bit far from the center I like to be in. I love the Shilla Hotel, as it's beautiful and the service is impeccable.
Souvenir of choice:
A pack of face and/or foot masks, snail extract creams, or cica cream from any Korean beauty cosmetics are all the rage.
Local motto that you live by:
인생은 한번 뿐이다—you only live once.
Related: Soo Joo Park's Beauty Secrets Include Facials and Snickers Bars