Noah Cyrus Is Emerging From Heartbreak—and from a Stadium Tour with Katy Perry—More Confident Than Ever Before
The 17-year-old emerging pop star on Instagram, playing Madison Square Garden, and why she's always loved a tearjerker.
---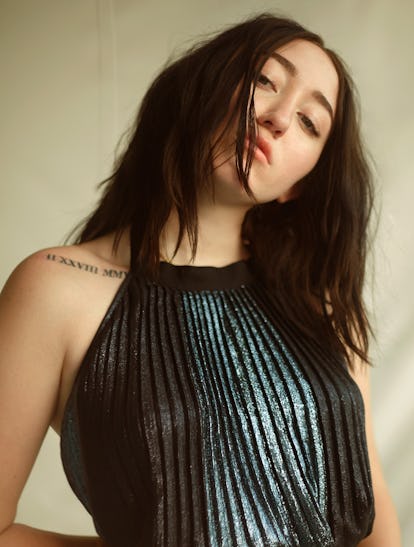 Noah Cyrus has always had an affinity for sad love stories. Those of the tearjerker variety: Titanic, P.S. I Love You, and Hope Floats are among her favorite films. So when she started writing music as a young teen, she naturally began writing about imagined romantic exploits—despite little personal experience in that department.
"I'd write a song on the piano but I'd still feel very insecure about it," Cyrus said on a recent afternoon in New York. "What was weird is, I was writing about relationships, and love and all that stuff, but I didn't know anything about it." A couple years later, when she went through her first breakup—"I, at the time, thought I was going to die if I was not with this person forever," she said, grimacing slightly at the hyperbole—she wrote about it. That song was "Almost Famous," and it became Cyrus's fourth single as a professional musician, released in August of this year.
It's been just less than a year since Cyrus, daughter of the country musician Billy Ray Cyrus and sister of pop star Miley Cyrus, announced she had signed with Barry Weiss's label Records with the release of her debut single, "Make Me (Cry)"; the power ballad, which she wrote and recorded with the British producer Labrinth, has since racked up nearly 130 million streams on Spotify alone. In just the 11 intervening months since the track's premiere, Cyrus has worked on recording her debut album, the forthcoming NC-17; released four more singles; and signed on to open for Katy Perry on her Witness tour. (She will appear in support of Perry through November 1; from there, Purity Ring will pick up through December 20, and Carly Rae Jepsen will close out the tour through February 5.) Cyrus has known Perry since she was eight or nine, so it was probably with an added layer of delight that she first got the inkling she might have a spot on the tour. She was in Australia when her mom let it slip: "It always starts with, 'Okay, don't tell them I told you,'" Cyrus said. About a week later, it was confirmed. "Up until I got on the tour, I was just waiting—I felt like a little kid waiting for Christmas."
It was the Witness tour that brought Cyrus to New York in October. She could be excused for being a bit tardy to her photoshoot, at 1 World Trade Center's studios, because when she did stroll into the studio, she had her 10-week-old puppy (as well as her mom and publicist) in tow. She had adopted Foo, a tiny, docile ball of fur (which Cyrus's mom, Tish, assured could be a "devil" on occasion), just a week and a half before, at the iHeartRadio Music Awards. So, naturally, they were inseparable—and the gregarious, outgoing 17-year-old had talked her dog past the building's notoriously strict security. Foo skidded across the floor, zipping from corner to corner, while his human perused a rack of clothes nearby—all vegan, as Cyrus is a staunch animal advocate and PETA ambassador. Earlier in the week, she had played Madison Square Garden with Perry—the most memorable show to date, she said at the time, and something like a fever dream for an emerging artist—and the next week, she would appear on The Tonight Show Starring Jimmy Fallon. (Her sister Miley was, incidentally, in the middle of a weeklong residency on Fallon that week.)
In the photo studio, Cyrus pulled a pair of black, shiny parachute pants from the rack and called over to Tish, who was sitting on a couch across the studio, "Mom, I want to wear these on Fallon. I need these in my life." (Later, she told me, describing her look, "I always like a baggy pant.")
In person, Cyrus is self-assured and endlessly enthusiastic about her music, the tour, her fans—belying the skepticism with which she first approached a career in music despite the preponderance of Cyruses in the music industry as well as on screen. (She made her own big-screen debut as the voice of Ponyo in the English-language dub of Hayao Miyazaki's 2008 film of the same name.) As the daughter of a famous family, Cyrus had observed the intense public scrutiny wrought by celebrity, and she "wanted nothing to do with it," she said. "I saw how it will kind of rip you apart—comments and all that stuff." Before she even turned 13, she was already grappling with life in the public consciousness, receiving nasty comments on social media and resentful of the relentless paparazzi attention on her family. It took a toll on her confidence: "Everybody's like, 'Who hurt you?'" she said. "I'm like, 'The internet.'"
Instead, she focused on horseback riding; an avid equestrian, she envisioned herself going to the Olympics when she was younger, and she was home-schooled beginning after her freshman year of high school in order to focus on traveling to shows. Though she's taken a hiatus from riding while her music career lifts off, she keeps close tabs on her horse, Nemo, regularly posting photos of him in competition to her Instagram.
Then, about two years ago, when Cyrus was 15, she played two songs during an intimate coffee shop set: covers of "Riptide," by Vance Joy, and "Could've Been Me," by her dad. ("Shout-out to B. Ray," Cyrus said, smiling; she and her dad have matching tattoos, and portraits of her father decorate her in-ear monitors.) It brought about a reversal: "I just fell in love," she said, "and I wanted to do it from there." (She previously told Billboard she was also particularly inspired by a set by British singer-songwriter Ben Howard: "I wanted people to connect to me on that level," she told the magazine, "where I can write about anything, but it would still make someone feel a certain way.")
Since graduating high school last December, she has delved wholeheartedly into writing, recording, and touring. Over the summer, after a tiff with her then-boyfriend, she went into the studio—again with Labrinth, who has become among her closest musical collaborators and also worked on her most country-inflected single, "I'm Stuck"—and emerged three days later with "Again," which premiered in late September. "You don't know what you've got till it's gone, my dear," Cyrus sings on the track, "So tell me that you love me again." She co-directed the accompanying video, which finds her wandering through the iconic Waverley Cemetery in Sydney, Australia—an eerie graveyard atop a cliff overlooking the ocean.
Her burgeoning career has led her, inevitably, to confront the internet commenters she was so wary of when she was younger. For example, "Again" features the Florida-based rapper XXXTentacion, a 19-year-old who was charged with a bevy of domestic violence-related charges last year, and will go on trial later this year. Commenters remarked on this when Cyrus posted about the track on her Instagram, and posts by music publications like Complex and Spin wondered how she came to be working with an alleged domestic abuser.
So I asked her: Did she anticipate the reaction, given the allegations against him? "I was aware of the charges in the press, but…" she said, trailing off. "I just wanted to give people my love song." As for how she dealt with the response in the aftermath of the premiere, she told me, "It's about the music, you know what I mean? I've always looked past negative comments."
Big sister Miley offered her some of the best counsel on this front: "Don't look yourself up, don't read the comments," Cyrus said later, recalling the advice she received from her sister. "At the end of the day, if it's hate, it's garbage." She also grants herself the tiny pleasure of reading, and liking, negative Instagram comments.
The relationship that inspired "Again" ended just before Cyrus embarked on the Witness tour, challenging her resolve. (It was comforting, she had told me, to be opening for a musician she's known for nearly half her life, to see a familiar face in unfamiliar corridors—undoubtedly due, in no small part, to her recent breakup.) But she has gradually emerged from the heartbreak more grounded and sure of herself; eventually, she said, she wants to write it into song, to share it with her fans. After all, Noah Cyrus has always had an affinity for sad love stories. For now, it's enough to be "starting to find myself again," she said.
"You're thinking about you-plus-one," she said of being in a relationship. "I'm getting through it now, and I feel like I'm starting to get a new me, in a way. A stronger me."
Watch: Who Would Noah Cyrus Call If She Got in Trouble?