Brad Pitt and Leonardo DiCaprio Were Offered Brokeback Mountain
Pitt filmed 'Mr. and Mrs. Smith' instead, and the rest is history.
---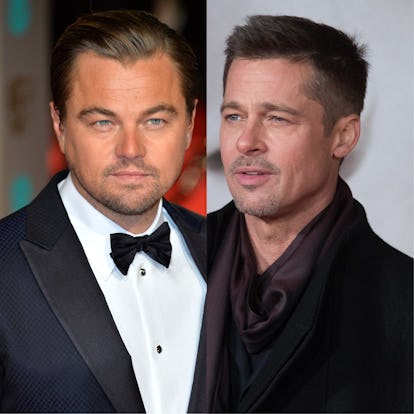 Getty Images/Luca Teuchmann/Anthony Harvey
Brokeback Mountain is remembered as one of the best films of its decade, but in an alternate universe the film looks very different. In fact, it's possible Brad Pitt and Leonardo DiCaprio could have starred in the tragic western love story if Gus Van Sant, who was originally attached to direct, had his way. In a new interview with IndieWire, Van Sant confirms that the pair, who are currently filming Quentin Tarantino's Once Upon a Time in Hollywood together, in which they play roommates but not lovers, were on the short list of actors who were sent offers to star.
"Nobody wanted to do it," Van Sant said. "I was working on it, and I felt like we needed a really strong cast, like a famous cast. That wasn't working out. I asked the usual suspects: Leonardo DiCaprio, Brad Pitt, Matt Damon, Ryan Phillippe. They all said no."
Producer and cowriter Diana Ossana backed up the assertion. "Yes, all those young gentlemen [at the time] turned down the project, for various reasons," she said.
This isn't the first time we've had word of an A-list actor having turned down the roles of either Ennis Del Mar or Jack Twist.
Earlier this year, at a special showing of the film, Ossana said that Van Sant, the openly gay director who came to prominence as part of the New Queer Cinema movement, was actually very close to starting production on the film with Damon and Joaquin Phoenix on board (incidentally, Van Sant had previously directed Damon in Good Will Hunting and Phoenix in To Die For, pivotal career-changing roles at the time for both). That's according to The Hollywood Reporter, which mentions that Mark Wahlberg was also briefly attached and that Edward Norton was sent the script as well.
Still, it's the first time that Pitt's or DiCaprio's name has been mentioned.
It's not necessarily a surprise. They are two of the biggest male stars in Hollywood both now and then. They get sent roles all the time, we're sure, even roles they might be a bit too old for (both Pitt and DiCaprio have a few years on Jake Gyllenhaal and Heath Ledger, who ultimately booked the roles, but the film doesn't put a number on their ages and shows the characters at various point in the life).
As A-list stars are sent scripts all the time, there's also many reasons they may choose to turn them down—although in this context, it's impossible not to think that perhaps the thought of playing a gay cowboy scared some of the actors off. But a few of the actors mentioned had played gay roles before. Before his mainstream teen heartthrob days, Phillippe made soap opera history by playing the first openly gay teenager on American television on One Life to Live. In 1995, a pre-Titanic DiCaprio played a tumultuous twink poet caught up in an affair with an older married man in 19th-century France in Total Eclipse. Damon was relatively fresh off the homoeroticThe Talented Mr. Ripley at the time, though the exact sexuality of his character is still a matter of hot debate. Of course, it was the early '00s. Playing one gay or sort-of-gay role earlier in your career to establish yourself was one thing, but taking on a second gay role once you were already a star was another. The world wasn't ready for the Lucas Hedges career path just yet.
Whatever the case, eventually Van Sant dropped out (he tells IndieWire he had a different idea for the movie, but ultimately enjoyed the existing script too much). Ang Lee signed on to direct instead, and recruited Gyllenhaal and Ledger (the latter reportedly with the strong urging of his then-girlfriend Naomi Watts) as his stars.
The film was released to accolades, and its young stars (including supporting actresses Michelle Williams and Anne Hathaway) were tipped as the next big things in Hollywood–predictions that turned out to be very much correct. It's hard to argue that things didn't turn out for the best for everyone involved. Well, almost everyone. Even Phillippe wound up in Crash, the movie that ended up beating Brokeback for the Best Picture at the Oscars that year.
You can cross-check IMDB for which movies the aforementioned stars wound up doing instead, but here's one last interesting tidbit we'll leave you on: Brokeback Mountain filmed during the summer of 2004. At the same time Pitt was busy filming a little movie called Mr. and Mrs. Smith. If he had signed on to the Western instead, it really would have changed Hollywood history in more ways than one.
Related: Naomi Watts Wrote a Moving Tribute to Heath Ledger on the Anniversary of His Death