Naomi Watts Wrote a Moving Tribute to Heath Ledger on the Anniversary of His Death
Monday marks 10 years since the actor passed away.
---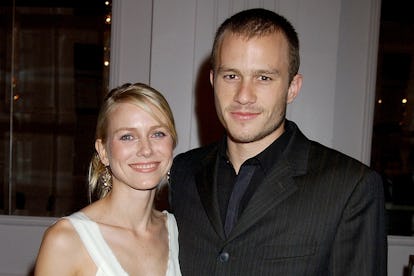 Gregg DeGuire/WireImage/Getty Images
Ten years ago, Heath Ledger passed away at the age of 28, leaving behind close friends, collaborators, his former partner Michelle Williams, and their daughter, Matilda Rose Ledger. On the anniversary of his death, his former girlfriend Naomi Watts posted a moving tribute in remembrance of the actor on her Instagram. "Thinking about this beautiful soul today," she wrote. "[Ten] years ago he left this world. He was a true original. Heart always on his sleeve, with the most powerful charisma, strength, humor and talent. I will never forget his gentle spirit."
Watts and Ledger, both Australians, were in a relationship from 2002 to 2003, and remained close friends until his death in 2008. "We had a beautiful relationship, only a couple of years, but he was a man who was completely full of joy, and there was a lot of laughing and affection," she told More magazine in 2011. "He was really a very special soul and made a great impact on my life. And a great actor, but I know there was so much more to come. And it's a tragedy for his little daughter."
Watts isn't the only celebrity to pay tribute to the late actor on social media. Actress and model Lily Cole, who costarred with him in his last film, The Imaginarium of Doctor Parnassus, also wrote a post in memory of Ledger on her Instagram, reported Indepe ndent.ie. "I can't believe it's [10] years since the world lost this most beautiful spirit," she wrote. "Heath was so funny, so kind, free-minded and creative, playful, so generous, and a hundred other positives. I feel lucky to have known him and join the list of so many who miss him."
Ledger's sister, Kate, recently spoke about her brother's passing, calling him her "soul mate." "Heath is hugely important in the lives of my children," she told WHO. "There's not a day that goes by that we don't share stories or talk about him. He is very much alive in our house."
Related: A First Look at I Am Heath Ledger, an Emotional New Documentary About the Late Actor
Martin Schoeller: Portraits
George Clooney and Brad Pitt photographed by Martin Schoeller.
Jay Z photographed by Martin Schoeller.
Steve Carell photographed by Martin Schoeller.
Marina Abramovic photographed by Martin Schoeller.
Jake Gyllenhaal and Heath Ledger photographed by Martin Schoeller.
Sean Combs photographed by Martin Schoeller.
Lil' Kim photographed by Martin Schoeller.
Tony Hawk photographed by Martin Schoeller.
Cesar Millan photographed by Martin Schoeller.
Martin Schoeller: Portraits