Katy Perry, Joe Alwyn Praise Taylor Swift's Voting Message to Fans
Joe Alwyn also voiced his support.
---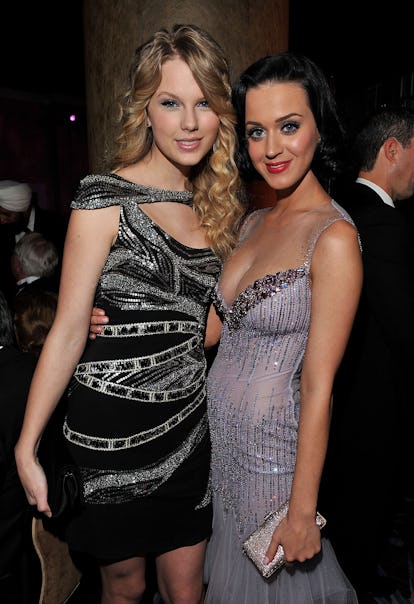 Larry Busacca
Taylor Swift's political message from earlier this month is still getting a lot of love, and not just from fans.
The Reputation singer has received support from her boyfriend, Joe Alwyn, and Katy Perry, two notables who, for very different reasons, aren't always eager to talk about Swift in public. Indeed, Perry happened to be one of the first people to like Swift's post endorsing the Democrats in Tennessee.
At the amfAR Gala in Los Angeles on October 18, where she was receiving a Courage Award, Perry told Variety that Swift is "setting a great example." The two singers have had a rocky relationship the past few years. But in May, before the start of Swift's Reputation tour, Perry sent her a literal olive branch and a letter. Perry has been vocal about her support for Hillary Clinton, even holding fundraisers for the former secretary of state. Clinton also used Perry's hit song "Roar" in her campaign.
Alwyn also commented on Swift's recent political comments. During the 2018 BFI London Film Festival on Thursday, a reporter asked Alwyn, "What do you make of Taylor Swift and all of her tweets and everything that's been going on in terms of her political stance? We haven't really seen that before." Alwin replied, "I think it's great. I think it's important."
In Swift's original post, she wrote, "In the past I've been reluctant to publicly voice my political opinions, but due to several events in my life and in the world in the past two years, I feel very differently about that now, I always have and always will cast my vote based on which candidate will protect and fight for the human rights I believe we all deserve in this country."
She continued, "I will be voting for Phil Bredesen for Senate and Jim Cooper for House of Representatives."
Related: Taylor Swift's Albums Race up iTunes Charts After Endorsing Democrats