Taylor Swift Calls Out "Fear-Based Extremism" in Latest Political Instagram
The old Taylor Swift can't come to the phone right ...she's busy being political.
---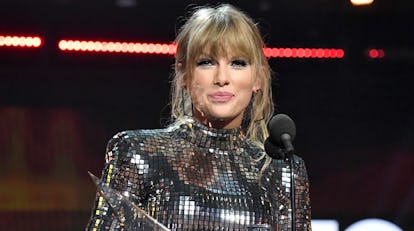 Jeff Kravitz/AMA2018
The old Taylor Swift can't come to the phone right now…. because she's dead — and a new, political Swift has reemerged from the ashes. The pop star made another plea to her 112 million Instagram followers, and counting, to get out and vote in the midterm elections on November 6 (which you can prepare for here). This time, instead of wearing her patriotism on her toes, Swift waved around American flags with her mother in front of a sign endorsing US Senate candidate Phil Bredesen, who is running in Swift's state of Tennessee.
Swift gave another endorsement for the former governor in the caption of her photo, where she called out the "fear-based extremism" in U.S. politics. "These two Tennessee women voted for the candidate who has proven himself to be reasonable and trustworthy," she wrote. "We want leadership, not fear-based extremism. Early voting goes til Thursday and Election Day is November 6. Please don't sit this one out."
Ever since she made a sizable donation to the this year's March for Our Lives (without giving any political statement while doing so), Swift has become increasingly emboldened in speaking up about her political beliefs. She did so to the applause and relief of many this past October when she denounced Marsha Blackburn, a Republican Senate candidate running in Tennessee. "In the past I've been reluctant to publicly voice my political opinions, but due to several events in my life and in the world in the past two years, I feel very differently about that now," she wrote on Instagram. " I always have and always will cast my vote based on which candidate will protect and fight for the human rights I believe we all deserve in this country. I believe in the fight for LGBTQ rights, and that any form of discrimination based on sexual orientation or gender is WRONG. I believe that the systemic racism we still see in this country towards people of color is terrifying, sickening and prevalent. I cannot vote for someone who will not be willing to fight for dignity for ALL Americans, no matter their skin color, gender or who they love."
Call it the Swift effect — or not — but Vote.org saw a spike of 65,000 registrations in the day that followed Swift's post, most notably in the 18-to-24-year-old and the 25-to-29-year-old ranges. Considering her reach, Swift's endorsement of Bredesen can only help his chances.
Related: Taylor Swift's Albums Race up iTunes Charts After Endorsing Democrats