Taylor Swift Supports Gun Control Without Making Any Political Statements
Gun control is a bipartisan issue.
---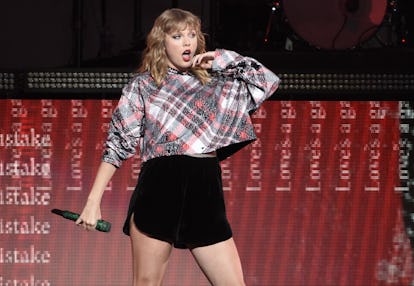 Tim Mosenfelder/Getty Images
Over the past couple of years as the world has become an increasingly woke place, with the once-politically dormant now emboldened to speak up, Taylor Swift has remained remarkably quiet. Despite having a reach of over 106 million followers on Instagram alone, and being the only artist to sell over 2 million copies of an album within the past two years, Swift has yet to comment on any of the political upheaval taking place in the United States. Today, though, she was applauded for what many assumed to be a political statement: Swift announced that she has donated to March for Our Lives, a nationwide protest in favor of gun control.
Swift shared her support for the student-led movement on Instagram, writing, "No one should have to go to school in fear of gun violence. I've made a donation to show my support for the students, for the March For Our Lives campaign, for everyone affected by these tragedies, and to support gun reform. I'm so moved by the Parkland High School students, faculty, by all families and friends of victims who have spoken out, trying to prevent this from happening again."
While it is worth applauding Swift, or anyone, who is making this important cause their own, and donating to it, let's be clear: This is not a political statement. Gun control is a human rights issue, not a political one, as many of the students at Parkland, Florida's Marjory Stoneman Douglas High School have expressed in the wake of the tragic mass shooting that left 17 students and faculty dead on February 14. As MSD student Emma González expressed in an op-ed for Teen Vogue today, "The problem of gun violence goes beyond the countless demographic differences between people. Any way you cut it, one of the biggest threats to life as a teen in the U.S. today is being shot." The issue is so bipartisan that republican president Donald Trump initially supported raising the minimum age to purchase guns among other gun control measures, before re-pledging his allegiance to the National Riffle Association and proposing to arm teachers.
The fact that Swift doesn't mention any specific legislation proposals or calls upon the president to make changes also suggests that her motivations aren't political. (Just think of how much attention Swift would get if she actually called for narrowing the qualifications for obtaining guns or eliminating assault riffles, as many Parkland students, faculty members, and parents of students have done.) While it may be pessimistic to read Swift's intentions as self-serving, it must be noted that she's making a rare advocation specifically for students, a demographic her music directly attempts to win over.
There is also a clear pattern emerging of when Swift decides to speak up. The last time (and only time) she directly made what some presumed to be a political statement was when she addressed the country's flawed system for handling sexual misconduct cases while talking about her own case to TIME — her lawsuit against DJ David Mueller who was found guilty of groping the singer last August. But, throughout the process, and even after as the #MeToo movement was ramping up, Swift herself never once spoke out in support of other victims. Her name didn't even enter the #MeToo movement until she was surprisingly awarded a spot on the cover of its "Person of 2017" issue. Furthermore, Swift's legal team has actually come after journalists who've written about her political apathy, as Splinter News reported las fall.
"I'm not gonna sit here and go into my political views cause that's not what I chose to do. I chose to do music," Swift once said in an interview. Maybe now it's time to start.
Related: Taylor Swift Now Owns $50m Worth of Apartments on One NYC Block