Taylor Swift Now Owns $50m Worth of Apartments on One NYC Block
The pop star has spent quite a pretty penny on just one city block in Tribeca.
---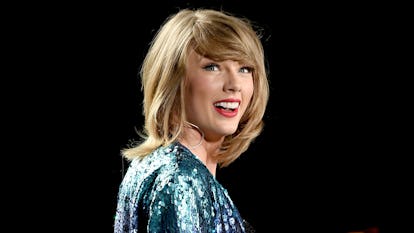 Dimitrios Kambouris/Getty Images
Taylor Swift managed to shake up the New York city housing market by spending nearly $50 million ($47.7 million to be exact, but who's counting?) on just one city block in Tribeca. The New York Post reports that Swift purchased a second-floor apartment at 155 Franklin St. for $9.75 million from Jeremy Philips.
The flat is quite sizable at 3,540 square feet, but not nearly as large as her previous home purchases on the same block. Swift already owns the two top floors of the building, and has combined them into an 8,000 square foot duplex (previously inhabited by director Peter Jackson), in addition to owning a townhouse located right next door. The $18 million home next door at 153 Franklin St. is complete with a garage built to be paparazzi proof. The deal for the 155 Franklin St. location was off-market, and took a little bit of time for reporters to figure out that it was indeed Swift behind the purchase, but some eagle eyed reporters made the connection that the LLC used for her first purchase on the block matches the one used to purchase this new apartment.
We now know that this Tribeca flat is definitely owned by Taylor Swift, but what is she doing with all of this space? There's no way this new apartment is just a crash pad for squad members (the squad seems to have experienced some shifts lately—Lorde is out, but Karlie Kloss is still in). Maybe she got tired of the cinder block walls she installed around her mansion in Beverly Hills, or the crashing waves of the Little Narragansett Bay in front of the $17.75 million Rhode Island mansion where she hosts parties in the summer. Still, there is one possible explanation that is yet to be explored, and it's time to just put it out there in the ether—perhaps Swift just needed a decoy address to store the KKW Kimoji Hearts Fragrance sent to her by her number one enemy Kim Kardashian.
Related: An Exhaustive Guide To All the "Haters" Kim Kardashian Is Gifting Her KKW Kimoji Hearts Fragrances, From Taylor Swift to Chloe Grace Moretz
See W's most popular videos: