Frank Ocean Releases First Blonded Radio Episode in Over a Year to Talk About the Midterm Elections
It's his first episode in more than a year.
---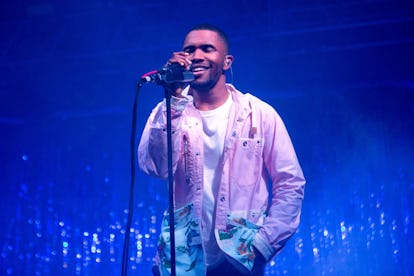 Josh Brasted/WireImage
After staying far away from the spotlight for more than a year, Frank Ocean finally broke that (literal) radio silence on Tuesday with a new episode of his Beats 1 radio show, Blonded Radio. Though he didn't release the much-awaited follow-up to 2016's Blonde, or any other new music, for that matter, he did use his voice for an important cause: to encourage listeners to vote in Tuesday's midterm elections.
"Blonded Midterms pt. 1" opened with Ocean's song "U-N-I-T-Y," off his 2016 visual album Endless, according to The Fader. After welcoming the "early risers," and asking, "Do you do iced coffee?" Ocean and his cohost, producer Vegyn, reportedly launched into a discussion of right-wing conspiracies like the so-called Pizzagate one, as well as the importance of voting and of defying the "anti-intellectual" tactics that suppress voting and other democratic rights. "We're against gerrymandering. We're against voter ID laws. We're against voter suppression," Ocean said.
"Let's get the ideas out of the shadows so everything is out in the open," he continued, per The Fader. "People need to trust their common sense when it comes to things in politics. If it seems morally wrong…it is usually wrong," Ocean concluded, reminding listeners once again to cast their votes before closing out the show with the Honeydrippers' 1973 single "Impeach the President." Apple Music has yet to archive the new episode, but keep an eye on the Blonded Radio landing page for the election-themed edition to appear in full, and for any other episodes that Ocean may upload on Wednesday—since, after all, the morning's episode included the rather mysterious designation"pt. 1."
Shortly after the episode ended, Ocean took to Tumblr, his preferred social media platform, to share another voting-related update (though still none of the new music he's been hinting at for months). According to his post, voters in Houston, Miami, Atlanta, and Dallas who bring proof that they cast their ballots will receive free merch from one store in each city, "because God bless America." With the promotion, Ocean is specifically targeting the 42 percent of eligible voters who traditionally neglect to hit the polls: "Come out come out wherever you are," the flyer reads, noting that those citizens who don't participate in the electoral process make up "the largest political group in America." In a postscript, Ocean explained, "Locations were chosen in states to support specific candidates: Stacey Abrams in Georgia, who if elected would be America's first black female governor; Andrew Gillum in Florida, who would become the state's first black governor; and Beto O'Rourke, who would be the first Democratic senator in Texas in 24 years."
Related: Frank Ocean and Brad Pitt Have a Burgeoning Special Bond