Frank Ocean Sort of Kept His Promise To Release New Music in 2018
Everyone is losing their minds over Frank Ocean's melancholy cover of Johnny Mercer and Henry Mancini's "Moon River."
---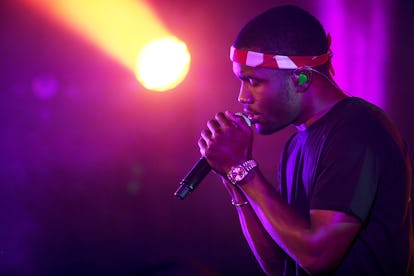 Roger Kisby/Getty Images
After cryptically teasing the release of new music on his Tumblr back in January, Frank Ocean has kept his promise. Well, sort of—in the dead of night on Valentine's Day, the singer released his own melancholy cover of "Moon River" and everyone is losing their minds.
While this is not at all a new track—Henry Mancini and Johnny Mercer's song was sung by Audrey Hepburn in the 1961 film Breakfast at Tiffany's, and won an Academy Award for Best Original Song as well as two Grammy Awards—it is the first music released by the crooner in 2018, courtesy of his Beats 1 Radio show Blonded. Last year, Blonded Radio was the vehicle that premiered "Chanel," "Provider" and "Biking (Solo)"—all singles that even some of Ocean's biggest fans were calling better than his long-awaited 2016 album Blonde.
Already, everyone from Paramore's Hayley Williams to Romil, a member of the hip hop boy band collective Brockhampton Tweeted out their support for Ocean's heartbreaking cover of the classic song.
Although the singer has given us a crumb of an insight into what he's been up to ever since the release of his singles on Blonded Radio and a handful of small performances from the last year, the singer still remains mysterious, with only the occasional Tumblr update (he really, really loved Michael Stuhlbarg's performance in Call Me By Your Name). In any case, at least we know from his V Man interview with Oscars frontrunner Timothée Chalamet that Ocean has been scoping out apartment furniture for his new pad in New York.
Related: Frank Ocean Vogued the Night Away with Tyler, the Creator and Joanne the Scammer at His 30th Birthday Party