Frank Ocean Vogued the Night Away with Tyler, the Creator and Joanne the Scammer at His 30th Birthday Party
Frank Ocean went all out with a Paris Is Burning themed birthday extravaganza.
---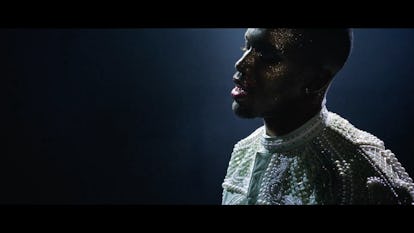 This weekend, Tyler, the Creator and Joanne the Scammer joined birthday boy Frank Ocean at a ball-themed celebration of the singer's 30th revolution around the sun. RuPaul's Drag Race alums Kim Chi and Shangela were also present, as well as Gia Gunn, who strutted down the runway in competition with Frank Ocean. On his 2016 visual album, Endless, Frank Ocean included vocal track samples from Crystal LaBeija, a ball queen who founded the legendary House of Labeija that was featured in Paris Is Burning, and vogued the night away in her honor on his 30th birthday.
The birthday bash was reportedly modeled after Paris Is Burning, the 1990 documentary chronicling the ball scene in New York City during the 1980s. Historically black and Latinx queer subcultural communities in New York City competed as members of various ballroom houses all night long, birthing most of the now-mainstream colloquial lexicon—from phrases like "Yas Queen" to "throwing shade"—and paving the way for the existence of contemporary reality competition shows like RuPaul's Drag Race. After competing in a voguing competition for the House of LaBeija with Tyler the Creator, Frank Ocean was serenaded by none other than Joanne the Scammer, and gifted a fiery Eiffel Tower birthday cake to bring the theme home.
Billboard also reports that Amine, sporting fierce eyeliner and a Prince-inspired look, and this summer's breakout songstress SZA were in attendance at the ball as well.
Since the positive critical reception of 2012's Channel Orange and its long awaited follow-up Blonde, Frank Ocean has solidified his status as the rebellious yet sensitive bad boy of alt-R&B. It's no surprise that he would throw the most chic extravaganza of Halloween weekend, complete with cultural reference points that inspire and incite envy in those of us who wish we would've thought of this idea for our birthday parties first.
The celebration does raise a few questions: Did Tyler, the Creator's ferocious strut down the runway win him a coveted perfect 10 score? Will we be gifted with a Frank Ocean and SZA collaboration track in the near future? When did he and the cast of RuPaul's Drag Race all become such close friends? And, most importantly, where did Frank Ocean get those tight glittery pants?
Related: See All the Best, Boldest, '90s-Inspired Looks at Tyler, the Creator's Camp Flog Gnaw Festival
See W's most popular videos: