Celine Dion Answers a Question About Her Love Life By Singing Rihanna's "Diamonds"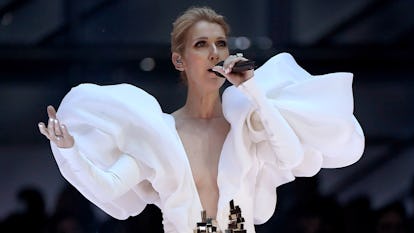 Ethan Miller/Getty Images
If you'd have to guess which one song describe Celine Dion's love life, chances are you'd go with either, "My Heart Will Go On, "It's All Coming Back To Me Now," or "Because You Loved Me"… since not only are those her actual songs, but they sum up pretty much everyone else on the planet's romantic endeavors. Yet, you would have guessed wrong. The one song that describes Celine Dion's love life is, apparently, Rihanna's "Diamonds," and as she proved today, she sounds damn good singing it.
Dion was promoting her new handbag line, Celine Dion Collection, at an event in Montreal earlier this week when a fan asked her how things were going in her love life. Her response, in true Dion fashion, was to launch into song.
"I'm enjoying myself. I went through a lot," she says in a clip posted to Twitter, referring to the deaths of her husband, René Angélil and her brother, Daniel Dion, who both died of cancer two days apart in January 2016. "At this time of my life, going back a few years back when it was so hard, I feel as though I can spread my wings," she continues before laying down a verse of Frank Sinatra's "The Best is Yet To Come."
And then, seemingly out of nowhere, Celine began belting out Rihanna's unforgettable refrain "Shine bright like a diamond," and suffice to say, it was amazing. The legendary songstress starts off swaying and snapping and making sultry eyes at the audience, and then seems to realize halfway through the song that she doesn't know any of the words beyond the opening. Only Dion could manage to keep shining bright nonetheless.
Related: Stylist Law Roach Talks About Celine Dion and Zendaya's Style Evolutions](https://www.wmagazine.com/story/law-roach-stylist-zendaya-celine-dion)
See What's Trending in W Video: