Chanel Muse Alma Jodorowsky on Life at Home, the Paris Protests, and Making Music for Herself
The French actress, model, filmmaker, and musician is the face of the Chanel Métiers d'Art 2019-20 collection, which arrives in stores this week.
---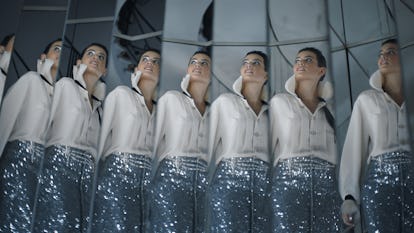 Still courtesy of Chanel.
Alma Jodorowsky was about to board a plane to Bangkok when lockdown restrictions were imposed back in March. The French actress, model, filmmaker and Burning Peacocks musician was en route to the set of The Serpent, an upcoming Netflix series about the serial killer Charles Sobhraj, when the production team called her to tell her to head home. Since then, she's been in Paris's 11th arrondissement, where she rode out quarantine with her partner and their Shiba Inu, going deep on Claire Denis's filmography, teaching herself how to embroider and, more recently, participating in the city's Black Lives Matter protests. This week, Jodorowksy, who will star in Stephan Streker's upcoming film L'Ennemi, adds another title to her résumé as the face of the Chanel Métiers d'Art 2019-20 collection, which just arrived in stores. Conceived by creative director Virginie Viard as a tribute to Coco Chanel, it's a contemporary interpretation of the iconic codes of the house—like the No. 5 emblem, whimsical bird cages, and bundles of golden wheat. We caught up with Jodorowsky on the phone to hear about the emotions the Chanel pieces evoke for her, what she wants to hold on to from her quarantine routine, and what it was like to see so many young people take to the streets in support of BLM.
Looking at the pieces from the Métiers d'Art 2019-20 collection now must feel quite different from when you first shot the campaign. What sort of emotions do the clothes bring up for you?
It's like another world. It was really strange, because they're like all these jewels created from the work of so many different people. Thinking about all of the disparate people working together to do with one piece, it felt really far from the situation in which we were all isolated from each other.
What kinds of personal projects have you been focusing on lately?
I taught myself how to embroider—I just did things for my home, a pillow with a sort of medieval-style dragon on it. It's funny because I felt like a lot of people, including me, we really wanted to feel at home and rearrange everything. Even at the end of the lockdown, the first shop I went to was a shop to buy stuff I needed for my place—not even very interesting stuff, just things for the kitchen and electrical stuff. It's strange how our places became the center of our lives.
Are there any elements of your quarantine routine that you want to continue even as things become more normal?
Yeah, a lot actually. Especially eating well and cooking instead of always going to restaurants. I really found a lot of pleasure in that, and it was also a way to be more connected with ingredients, thinking about seasonal fruits and vegetables and being more focused on the true cycle of the earth. I also want to reorganize my time when I'm at home—because with my work, there are some periods of time where I stay at home when I don't have filming or something, and I really notice the difference between how I used to use that day before lockdown and then during the lockdown. Because I knew that it was going to be so long, I had to think about organization of things during the day, like a little routine. It's not even necessarily about being productive, but thinking about exercise, or what I want to watch and when.
Have you been working on your own music at all?
I stopped my music thing [the band Burning Peacocks] completely a couple of years ago, it's not really central in my life anymore. But I still do music and write things, and in this period I did a little bit of music, there was maybe a week when I was working on my computer and making songs. It felt really good to be doing that again, just for me, not thinking about sharing it or making a new project. Just for the pleasure of it.
What kinds of films have you been watching lately?
I watched a lot of the early films of Claire Denis, because I hadn't seen so many of them before. So I watched four of her early movies, and I'm really a big fan. I also watched a lot of movies from the 30s and 40s, American movies, with Cary Grant. I discovered this movie that I'd never seen before called Sylvia Scarlett, which is really fun. In it, Katherine Hepburn is pretending to be a man and it's really funny, it's completely weird and crazy and really not classical at all, very surprising for this period. I made a lot of lists of movies that either I didn't know about before and I was just finding them on blogs, or movies that are very famous that I'd never seen.
Are there any actresses from that era of filmmaking that have inspired your work?
Kathaerine Hepburn, I really love her. And I have always been a huge fan of Elizabeth Taylor—when I was a teenager, she was my favorite.
What are you most looking forward to about being back on the set of The Serpent, once filming starts up again?
I have a part in the last two episodes, so I had arrived on set when everyone had already been there for four months, so it was very nice because everyone was like a big family and very welcoming, really warm. There were people of all different nationalities—British, French, Thai, Belgian—and it was fun to be on set.
What was it like preparing for your role in the series?
I did a lot of research into my character, because she was one of his victims in real life. It was fascinating to be able to learn about her, and also difficult. But I think everything is done in a very respectful way.
How has your time at home affected your relationship with clothing?
I was dressing every day, because the rare couple of days I stayed in my pajamas, I was very depressed. But I always stayed in comfortable outfits, I was trying not to be too strict on myself.
How would you describe the mood in Paris right now? Has there been anything surprising about reopening?
Everyone was taking it slowly and carefully when it reopened. I think a lot of people, including me, expected to fall instantly in each other's arms, celebrate the end of the lockdown. But we realized we had to take time to process everything we all went through. Now it is more relaxed, but I feel we still have to be careful and to be aware of everything that this tragic moment spotted about the way our society is constructed.
Have you observed or participated in any of the recent Black Lives Matter protests? What has it been like to witness this movement in your city?
Yes. I participated in the protests that happened in Paris and it was very powerful. A lot of people were already involved with these movements but so many are now, more than ever, feeling concerned about racism and the responsibility we white people have to acknowledge in order to radically change ourselves and our society. It was also impressive to see so many young people who were not only speaking out and showing their support on the internet but actually going into the street. All of these generations of people coming from different backgrounds, culture, origins all together with so much hope and dedication—it was very strong and I hope it will continue.Related: Sofia Coppola Collaborated With Chanel Creative Director Virginie Viard on the 2019–2020 Metiers d'Art Collection