Charli XCX Wants to Remake t.A.T.u's 'All the Things She Said' With Taylor Swift
Charli XCX knows what we want.
---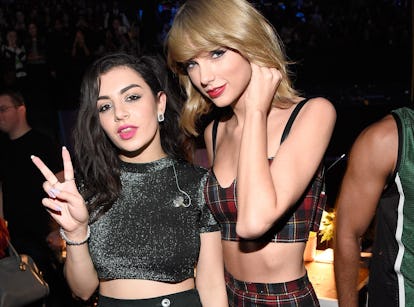 Kevin Mazur/WireImage
If Charli XCX wasn't making a living as one of pop's most talented, prolific and fun artists, she could have an entirely different career writing nostalgia-fueled listicles. Over the years, the dark pop singer has positioned herself as an expert on all things pop culture spanning from the '90s through the aughts. She's covered the Spice Girls, named Britney Spears as her beauty icon, and spoofed Clueless in 2014's song of the summer contender, Iggy Azalea's "Fancy." Now Charli XCX has set her sights on reviving another key piece of pop culture from the past: Russian duo t.A.T.u's 2002 single "All the Things She said," which you may remember from its controversial video that featured the two singers kissing, amongst other things.
Out of all of the people in the world, it's Taylor Swift who Charli XCX wants to remake the song with. She revealed as much in a new interview with L'Officiel, saying, "I'd actually love to do something super emo with her, like t.A.T.u's "All the Things She Said"—oh my God, that would be amazing."
The idea didn't just come up out of the blue; Charli expressed her dream to cover the song with Swift while discussing how she hopes her upcoming tour with the Reputation artist and Camila Cabello will pan out. "I'm really excited to be around all this female energy," she said. "I think it will be so powerful. Both Camila and Taylor are such excellent songwriters, so in a dream world, we would get some studio time too. That would be awesome."
On a more somber note, Charli XCX also talked about how she believes the music industry can become a more inclusive place for women, people of color, and LGBTQ artists. "Representation across all of those areas is key, and also education across those areas and cultures is key," she said. "I love collaborating with people from all different areas of the world, people who have led different lives than me, people who come from different places and have different things to say. I feel like I can learn things from all new people I meet." No doubt, artists like Taylor Swift stand to learn a thing or two from Charli as well.
Related: What Your Favorite Boy in Charli XCX's "Boys" Video Says About You