Charlize Theron Wants Somebody to "Grow a Pair and Step Up" and Date Her Already
"Somebody just needs to grow a pair and step up."
---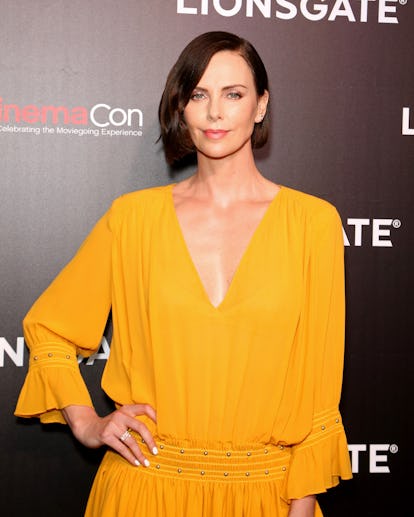 Gabe Ginsberg/WireImage/Getty Images
Attention, all eligible bachelors: If you want to date Charlize Theron, you are more than welcome — and, in fact, encouraged — to do so. On Thursday, while promoting her upcoming film Long Shot with Seth Rogen at CinemaCon in Las Vegas, the Oscar winner put out a call for any and all love interests to hurry up and make a move.
While, as the film's title implies, it's somewhat tough to believe that Rogen's character in the film would strike up a relationship with Theron's, of her actual offscreen life, Theron told Entertainment Tonight, "I've been single for 10 years, it's not a long shot. Somebody just needs to grow a pair and step up…. I'm shockingly available." Rogen jumped in to joke, "She's out there," before Theron added: "I've made it very clear."
This implies, then, that those rumors in recent months that Theron was dating Brad Pitt and/or another of her Long Shot costars, Alexander Skarsgård, were indeed untrue. Back in January, some tabloids put out a report that she and Pitt had been spotted acting "ridiculously touchy-feely" with each other in Los Angeles, claiming that they'd been "casually dating" for about a month; before that, when asked whether he and Theron had taken their friendship to the next level, Skarsgård said, "People can think whatever they want."
That decade-long solitude, for the record, is a bit of hyperbole. Theron dated Irish actor Stuart Townsend for nearly a decade, until early 2010. In December 2013, she began dating Sean Penn, who proposed the following November. In June 2015, however, they broke off their engagement, meaning she's only had about three and a half years of being "shockingly single." Still, she's clearly ready for someone to "step up"—so step right up, single people of the world.
Related: Long Shot Trailer: Charlize Theron and Seth Rogen Live Out Every Kid's Babysitter Fantasy