Alexander Skarsgård Didn't Shut Down Rumors That He's Dating Charlize Theron
They've allegedly been on and off again since 2012.
---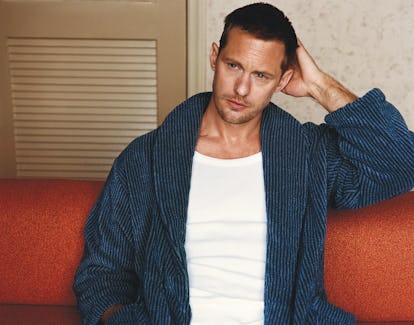 Photographs by Alasdair McLellan, Styled by Edward Enninful; Hair by Shay Ashual at Art Partner; makeup by Diane Kendal for Marc Jacobs Beauty at Julian Watson Agency; manicures by Casey Herman for Dior at the Wall Group. Set design by Stefan Beckman at Exposure NY.
Sometimes a rumor comes along that's so good, why would you bother denying it? Alexander Skarsgård isn't about to ruin everyone's fun. Like Kate Hudson, after she was romantically linked to Brad Pitt, the Big Little Lies male lead is letting people think what they want about his love life, especially when it concerns Charlize Theron.
The actors, who worked together recently on Seth Rogen's Flarsky, which isn't out until next summer, have been rumored to be cozying up. When asked how he felt about the rumors, though, Skarsgård cooly told WSJ Magazine, "It doesn't affect me. People can think whatever they want." You can't fault him for that diplomatic reply—not only does it skirt around any truth behind it, it also doesn't infringe on any of Theron's privacy.
Still, that hasn't stopped the tabloids from doing so. The pair were first rumored to be together back in 2012 when they were spotted looking "very couple-y" at West Hollywood's Soho House and later at Hollywood gay bar Gym Sportsbar, where it "was clear they were a couple," according to a source who spoke with the National Enquirer. (So take it with a grain of salt.)
Those same rumors popped up again this past December after the actors wrapped up production on Flarsky. At the time, a source close to the alleged couple told the Daily Mail, "They're both straight shooters. Charlize cusses and has a wicked sense of humor, which he loves. Alexander is a serious guy, a deep thinker, and she loves that. He's well-read, loves the classics, and is a movie buff just like her."
Even though he doesn't have any social media accounts, Skarsgård saw the rumors play out. "It's impossible to live in a vacuum—you hear, 'Oh, I heard you're dating so-and-so,'" he told WSJ. "Sometimes you're like, 'Yeah, I did.' Sometimes it's, 'Never met the person but give her my number'."
Obviously he and Theron have met, though. Regardless of whether or not they're a thing, Skarsgård is open to a longterm relationship. "I really enjoy the adventure of traveling, meeting new people, and working a lot," he said. "Hopefully one day I'll settle down."