Alexander Skarsgård Went Partially Bald
And Twitter took it really, really hard.
---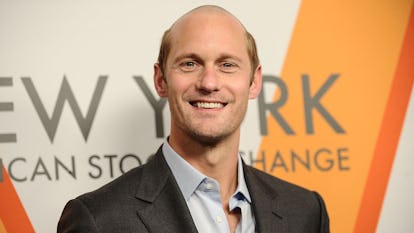 Daniel Zuchnik/WireImage/Getty Images
In a world where certain actresses can chop a quarter inch of their hair, and the internet loses its mind, it is somewhat refreshing to see so much attention given to a man's follicular changes. Though, Alexander Skarsgård's recent eye-catching hair cut is a bit more drastic than, say, Kate Middleton's most recent trim.
Skarsgård showed up to the opening party of New York's Louis Vuitton exhibition last night with a mostly shaved head, but instead of going full-on Mr. Clean, he's sporting something closer to Friar Tuck. Of course, it's for an upcoming role in The Hummingbird Project, a film in which he surprisingly does not play either a substitute P.E. teacher or your dad. Rather, he plays one of a pair of high-frequency traders who "go up against their old boss in an effort to make millions in a fiber-optic cable deal." Skarsgård will co-star as the brother of Jesse Eisenberg who has not been seen out in public recently enough to confirm that his own trademark curls are still in tact. Salma Hayek is also signed on as the female lead, but don't worry, she still has all her hair.
Skarsgård isn't afraid of looking less than photogenic on the red carpet. He tried out some unique facial expressions at the premiere of It last month, mugging for the camera as he posed with his brother (and star of the film), Bill Skarsgård — who for the time being, is now unquestionable, the most traditionally "Hollywood handsome" Skarsård.
Related: Alexander Skarsgård Found Those Naked Big Little Lies Scenes To Be "Quite Liberating"
Alexander Skarsgård on his first kiss: