Alexa Chung and Alexander Skarsgård Are No Longer the World's Lankiest Couple
The pair has split up after two years, as evidenced by Skarsgård's reported blind date with the model Toni Garrn.
---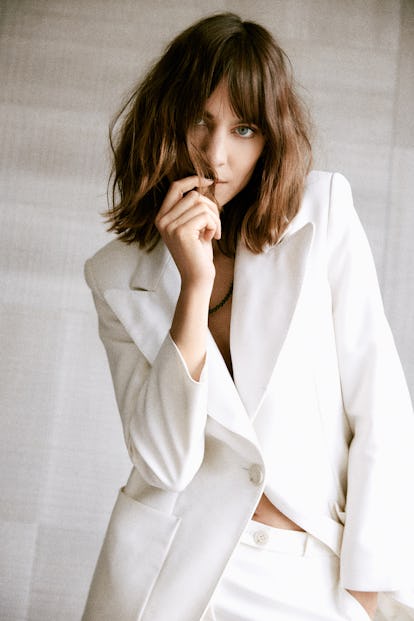 Chung wears an Alexachung jacket, $825, and pants, $500, alexachung.com; Her own necklace. Photo by Harper Smith, styled by Caroline Grosso. Visual Editor: Biel Parklee. Hair by Anh Co Tran for L'Oreal Professional at TraceyMattingly.com; makeup by Charlotte Day at See Management. Photography Assistant: Dean Dodos. Special thanks to MADE.
For two glorious years, Alexa Chung and Alexander Skårsgard have reigned supreme as one of the lankiest couples traipsing around the Lower East Side with matching skinny jeans and coffee cups. (All in all, they make for an even 12 feet between the pair of them.) But the couple hasn't been seen together since they showed up separately to the Met Gala last May, and now it turns out that they've called it quits—and that Skårsgard has already set his sights on another lofty partner: the model Toni Garrn.
Garrn reportedly linked up with Skårsgard for a blind date last weekend in Montauk, and while a Hamptons getaway may sound serious, it doesn't seem to have been as romantic as you may think: The pair "didn't hit it off big-time," according to Page Six, though that may have been because Garrn was reportedly nervous enough to bring two friends, and the foursome opted for lunch at Skårsgard's house rather than a candlelit dinner.
Still, Skårsgard seems to be doing pretty well when it comes to non-dating departments: Yesterday, he joined his costars Nicole Kidman, Reese Witherspoon, Laura Dern, and Shailene Woodley in landing an Emmy nomination for his often nude, and therefore "quite liberating," role in Big Little Lies. Hopefully, that won't mean Chung won't have to deal with a paddleboarding fiasco of her own, though the model-slash-professional "It" girl is no doubt keeping busy herself: She just launched her own fashion line, which has already hit the racks in stores like Selfridges and Opening Ceremony.
"Looking to the future, I was like, 'At some point I'd like a family, and I can't float around forever,'" Chung told W last month. She may have been describing how turning 30 prompted her to finally take the leap from collaborating with brands to actually being the boss, as well as to move back to her hometown of London, but it's an attitude that definitely seems to have extended over to her relationships, too.
Related: Alexander Skarsgård Found Those Naked Big Little Lies Scenes To Be "Quite Liberating"
Alexander Skarsgård's First Kiss Made Him Cry: