Would You Like to Dress Like Alexa Chung? Alexa Chung Has Just the Fashion Line For You
A longtime It girl and fashion influencer, the 33-year-old Brit is cashing in on her much sought-after cool factor with a frisky collection that has serious credibility.
---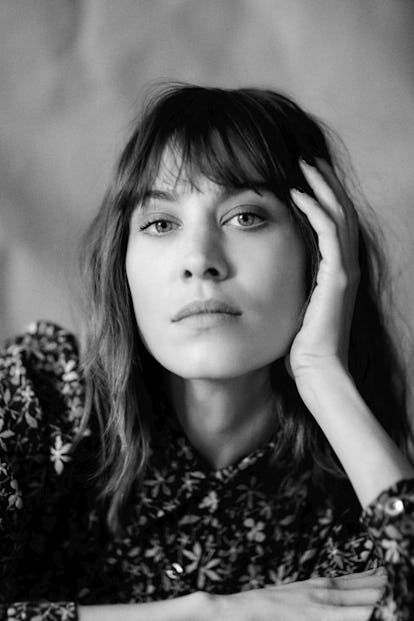 Chung wears an Alexachung shirt, $355, alexachung.com. Photo by Harper Smith, styled by Caroline Grosso. Visual Editor: Biel Parklee. Hair by Anh Co Tran for L'Oreal Professional at TraceyMattingly.com; makeup by Charlotte Day at See Management. Photography Assistant: Dean Dodos. Special thanks to MADE.
Cool is an inherently difficult concept to pin down. Webster's Dictionary defines the word as meaning "very good" or "fashionable; hip." Urban Dictionary went with "best way to say something is neat-o, awesome, or swell." Well, for over a decade, Alexa Chung has perfected the art of embodying that indecipherable quality, and now she's cashing in on it.
On May 31, she launched Alexachung, her own fashion label, and it's far from a vanity project, a 150-piece frisky and playful clothing line that has serious credibility, hitting stores as varied as Selfridges and Opening Ceremony.
"I've always wanted to do it, I just didn't have the wherewithal to sort of put it together," she told me. "I didn't know where I lived, or what I wanted to do, so suddenly, when I turned 30, I was like, 'Oh, it's now or never.'"
When Chung started getting called that other ephemeral phrase—"It girl", which later inspired the title of her first book—it was because of her public persona, the attitude she put out as a model and TV host in witty, self-deprecating clips that telegraphed a knowing cheekiness. Later, it would be her witty Instagram captions to her 2.7 million followers that charmed.
In person, she radiates a certain sangfroid. Walking onto set at the Made Hotel in New York's Garment District recently, she arrived alone, on time, wearing casual jeans, slingback Chanel kitten heels, and a trench, offering everyone a hug as way of hello. As the crew buzzed around her, she offered up bites of her lunch. When someone asked for music suggestions, she suggested some rock 'n' roll and immediately began singing along to the Rolling Stones. None of it is contrived, a factor that has made Chung—and her style—something of a sought after influencer.
In the past, Chung has collaborated with several brands, including AG Denim and Madewell, but this line marks her first eponymous collection (read: she's the boss). "Everything has been different. It is a startup company. We had nothing; no space, no desks, no computers, so logo, no staff, no idea," the 33-year-old explained.
"It's just in my nature to challenge myself, and be somewhat entrepreneurial. I never like to do things other people are doing, as such, if there's a flame, I want to shove my hand in it. It's a very annoying attribute to possess. Even moving to New York when no one I knew lived here, that was a weird thing to do, in hindsight, so it's been a weird series of moments of like where I've been like, 'F— it, I'll try that.' And then making it work or not work. I've had things that have crashed and burned, as well. It's all part of the tapestry of life, isn't it?"
Chung began working on the project over a year ago, in April 2016 ("I could have birthed a child and been cooking the second one by now," she noted), moving from New York back to London to start the company. The move, like the collection itself, was due in some part to that milestone birthday.
"It's not that thirty is old, but it's a point at which you reflect on life. It's a marker of time that means something," she said. "Looking to the future, I was like, 'At some point I'd like a family, and I can't float around forever,' and I've already got my family and wanted to be closer to my parents and siblings, who are based in England. I feel like I need more time to figure out what happened, but I'm a bit of a Homing pigeon. I was drawn to living there again."
It was also an important move, in terms of defining the collection's style in its earliest iterations. "When I thought about the DNA for the brand, it was quite important that it had Britishness at its heart, and everything that it means. That specific humor and irreverence and quirkiness had to come through."
As you'd expect from an Alexa Chung fashion line, it's all there. The sass, the coquettishness, the irresistible charm of young British chic. It's also both wearable and unique, the sort of of clothes you might spend hours scouring second-hand stores to find.
"It has a vintage feel to it, definitely," Chung said. "I'm a huge fan of vintage shopping, and always looking to the past for inspiration. Definitely it's got that kind of you could have already owned it vibe."
It's an extensive range with pieces ranging from corduroy jumpers and denim dungarees to menswear-inspired suits and mohair sweaters, and just about everything in between. Oh yeah, there are shoes and accessories, too. There's even something for the avid Chung fan (Chung-head? Chung-ista?) who wants a piece of her family history emblazoned on their chest, with a sweatshirt that features a drawing made by her father.
"It's in a frame in my house in Hampshire where I grew up, so I had to be like, 'You know that Beatles painting in the living room? Can you get it off the wall, scan it, and send it to me at very Hi-Res? I need it for a jumper,'" she said, amused again by her own chutzpah.
Though the collection just launched with a runway show in London, with the clothes going live on Alexachung.com that same day—additional retailers include Colette, Bergdorf Goodman, Net-A-Porter, and Matchesfashion—Chung is already in the development stages for the follow-up collection. As if there were any doubts of there not being follow-up collections, several items from the initial drop are already sold out online.
"It's a lot to hold in the brain at one time, but I've always been someone that thrives on multi-tasking," she said. "That's just how my mind works.But sometimes it has been really hard. There's been a lot of tears."
And all that hard work means that Chung, she of the aforementioned undeniable coolness, now has—gasp—an office job.
"It's weird," she said. "Very weird."
Related: Confessions of a Former British It Girl
Watch: Chameleons of the Art World: The Humans of Frieze New York