Charlotte Gainsbourg on French Women's Makeup Secrets
The British-French actress on what her mother Jane Birkin taught her about beauty and why young women shouldn't wear too much makeup.
---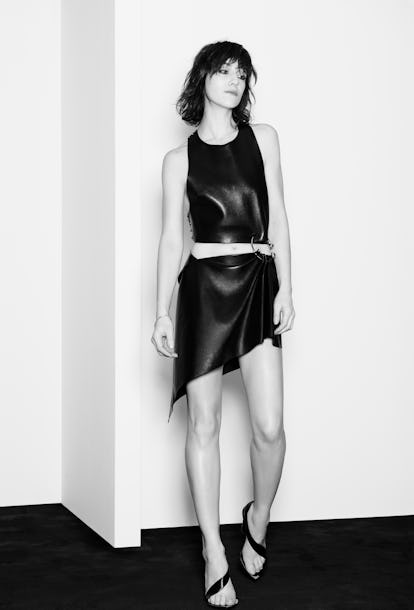 Courtesy
"It was a nightmare to have people change my face," the British-French actress and singer Charlotte Gainsbourg said of getting made-up for photo shoots to promote her early films, "It was not me." But three decades later, the 45-year-old knew exactly what she wanted from her eponymous limited edition Nars collection: transparency. The 15-piece line boasts subtle tints and textures with names like éphélide (French for freckles) and Jo and Alice (for her daughters). And that nonchalant attitude was intentional, "The idea was to be able to make mistakes, to add on instead of putting too much at the first touch," she added, pointing to the painterly brush roll. "It was very selfishly done for me." Gainsbourg shares what her mother Jane Birkin taught her about beauty, why she thinks young women today should wear less make-up, and what she would add to her limited edition Nars collection, which launches today.
So this is your first foray into makeup. Why did you decide to do it now? Because I met François Nars. I hadn't met him earlier and he asked me. I didn't realize that he did these collaborations and when he proposed…when you say this in English he proposed means that he wants to marry you, right?
Yeah, it's okay. Don't worry. It's a makeup marriage. Then I was thrilled because I hadn't thought about it and because it did make sense for me because I have a lot of things that personally I wanted, a mix of things that I had used, a tint here and a texture there, and things that he had made. Like the tint was inspired by one of his products that he had stopped doing.
Nars Lip Tint, $26, nars
In terms of the shades, we see so many makeup collections come in as beauty editors, and there are always these extremes, yellows and colors that are fun for artists, but for women who may want something more subtle, they're scary. Everything that you did is so beautiful and wearable. I went towards colors that are not flashy, that are very natural and hopefully can suit other women, of course. The idea was also to be able to make mistakes, to add on instead of suddenly putting too much at the first touch. So yeah, those were the main ideas of trying to be as subtle as possible.
What input did François have, or how did you go back and forth on making things? I think that the main thing that he said, and he said it often, was just to be very sincere with what I wanted to do, not to try and please people, to just yes, stay true to what I felt I wanted but also who I am. So the names, they mean a lot. They're very, very personal, and it was part of the process that I hadn't thought about was that I would have to name these products. And it was fun to be able to say intimate things with only one short name. So to be personal but yet keep a lot of secrets to myself.
Do you have a favorite product to wear? For the moment, I know I'll change, but for the moment it's the Multiple. I think you need color in the cheeks. A makeup artist that I used to work with when I was 14 would put blush on my nose and on my chin. And it does do something. It sort of reorganizes the face in a nice way.
Is there anything you wish you could have added or maybe for a next round that you'd like to make? Yes. But it's a product that is already done. I discovered it last time, I mean the last time I went into the store. It's more camouflage. I think the [Soft Matte Complete] concealer is pretty amazing. I wanted to get one for my mother [Jane Birkin].
The Best French Girl Hairstyles Straight from the Paris Fashion Week Runways
Backstage at Isabel Marant Fall/Winter 2017 show, models display their effortlessly tousled swept back locks.

Photo by Getty.
At Christian Dior's Fall 2017 fashion show, models with voluminous, brushed out curls walked the runway wearing black berets.

Photo by Getty.
At the Celine Fall/Winter 2017 show, models wore their hair in sleek, natural waves that looked as if they were air-dried–to perfection.

Photo by Getty.
Models showcased a variety of hairstyles at the Lanvin show, some wearing their hair in natural waves, while other models sported the classic sleek side pony.

Photo by Getty.
Models at Louis Vuitton Fall/Winter 2017 show wore their tousled locks swept over in wild, natural curls. Like bed head, but better.

Photo by Getty.
Has your relationship with makeup changed from decade to decade? Definitely. When I was 20 I didn't wear anything because it's as if I didn't know my face at that time, and I was very much against makeup artists who would put too much on, so it was sort of a fight to be able to just be myself. And then gradually, of course, aging I wanted to hide things and then pimples you need to hide, so it was a lot of camouflage. Now I have a better idea of what I like for myself, and it has changed. I'm not afraid of lips any more; I used to be. Lipstick doesn't suit me but I like to enhance just the top lip a little bit and that's something I wouldn't have done before. What else? I didn't think I would be able to put makeup myself, it's either very extreme or nothing, and I do like it. I do like playing with them.
What would you describe the French approach to makeup is? I remember just growing up my mother, who had gone through the '60s, just said, 'Don't do as I did. I wore too much in the '60s, we all did and we all had the same eyes,' and she still looked beautiful but she thought it was a very bad thing. And I understood that and thought that we had to be natural. And then it's true that she wasn't with my father any more when I sort of looked into that, and she went into that very jeans, T-shirt [phase]. She used to with my father but not as much. Suddenly she was very, very casual all the time and no makeup on, just being completely natural. So, she was my idol and I looked up to her, so of course that's the way I imagined things. Yet, I didn't like having my picture taken when I was small because it was a nightmare to have people change my face. It's true that now that I see my children here in school, I can see that young girls wear a lot of makeup here, whereas in France I don't think you wear as much foundation, for instance. I would never put foundation on young people; you have a perfect skin! Of course being a woman and trying out things—that's great, I can understand and lashes and all of that, but just this skin tone I don't get.
The Many Sides of Charlotte Gainsbourg
Charlotte Gainsbourg for Current/Elliott blazer, sweater, shirt, and trousers.

Photographer: Tim Walker Styled: Jacob K
Céline cape; Charlotte Gainsbourg for Current/Elliott jacket and shirt; Brooks Brothers pajama pants; Adidas Originals shoes. Christys' Hats London hat; Céline earring; Prada scarf; Sacai pin (throughout).

Photographer: Tim Walker Styled: Jacob K
Louis Vuitton vest, shirt, pants, and earring.

Photographer: Tim Walker Styled: Jacob K
Charlotte Gainsbourg for Current/Elliott coat; Anthony Vaccarello shirt; Valentino Garavani boots.

Hair by Cyril Laloue at Julian Watson Agency; makeup by Sam Bryant at D+V Management. Set design by Rhea Thierstein. Produced by Jeffrey Delich at Padbury Production.

Photographer: Tim Walker Styled: Jacob K
Watch French Oscar winner Marion Cotillard Explain Why She Knows She Would Make a Bad Spy
Marion Cotillard Knows She Would Make a Bad Spy