Charlotte Rampling Embodies a "Haunted Priestess" For Saint Laurent
The 74-year-old actress wears the house's spring 2021 collection in a new film directed by Gaspar Noé.
---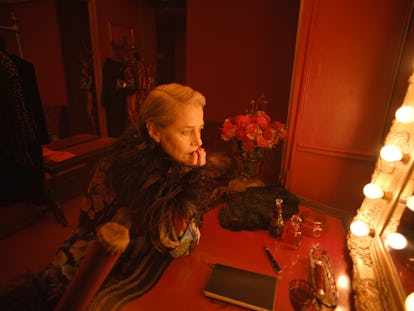 Courtesy of Saint Laurent
There may be no red carpets or events to attend, but it only took two weeks after Saint Laurent's spring 2021 collection debuted in a mysterious desert for it to resurface on a celebrity. That's thanks to the Argentine director Gaspar Noé, whom creative director Anthony Vaccarello tapped to create the short film Summer of '21, which premiered on Wednesday and stars Charlotte Rampling.
The 74-year-old actress was a natural choice; she's been wearing Saint Laurent for decades, and was once a muse to Yves Saint Laurent himself. Fittingly, the film's setting also harks back to the house's heritage. It takes place in a mansion that calls to mind the first Saint Laurent Rive Gauche boutiques, which opened in Paris in the 1960s.
Summer of '21 starts out amidst a series of screams. A model runs through the woods until she finds refuge: mansion cast in red, velvety light. A remix of Donna Summer's "I Feel Love" by SebastiAn blares, but it's calm up in Rampling's dressing room, where she's wearing a sweeping floral gown trimmed with maribou feathers and staring pensively into a vanity mirror. After smiling into another mirror, admiring her gown's full glory, she bids goodbye to her dog and descends a spiral staircase.
Meanwhile, models like Anok Yai, Sora Choi, Grace Hartzel, Clara Deshayes, and Mica Argañaraz are lounging on sumptuous red couches and playing chess. An alarm sounds, and it's time to head into a gilded theater. Rampling awaits them onstage, embodying the role of a "mysterious and haunted priestess."
Argañaraz and Deshayes have worked with Noé and Vaccarello before; they joined Charlotte Gainsbourg and Noé muse Karl Glusman in the cast of the Saint Laurent-backed film Lux Æterna, which premiered at the 2019 Cannes Film Festival. Since then, Vaccarello has taken the surprising leap to design for comfort, meaning the models got to be a bit cozier. Argañaraz, for one, wears a pair of summer 2021 bike shorts.
Related: Saint Laurent Held Its Fashion Show in a Mysterious Desert