Premiere: Watch Charly Bliss' Buffy the Vampire Slayer Remake, Just in Time For Friday the 13th (Exclusive)
The video for "Scare U" finds the Brooklyn band working at a cannibalistic burger restaurant.
---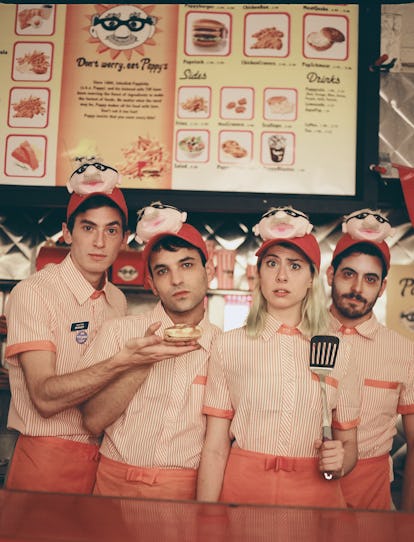 Jacqueline Harriet
Fifteen years ago, midway through its sixth season, the 112th episode of Buffy the Vampire Slayer attempted to address the reality that Buffy probably couldn't afford her rent as a full-time slayer by handing her a stint in a questionable fast food restaurant. And one year ago, Eva Hendricks, the singer and guitarist of the bubbly Brooklyn pop-rock band Charly Bliss, decided to double down on her Buffy fandom—to the point where she was watching episode 112 every single day, having convinced her bandmates to recreate it for the music video for their single "Scare U," premiering on W this Friday the 13th.
"Scare U," as the song's hook ("all I eat is bread and cheese") suggests, is "all about extremes," Hendricks said. In the case of the lyrics, that means pretending to play it "really, really" cool in an on-again, off-again relationship with a person you "actually really, really want to be with," and in the case of the video, that means customers are abducted and turned into hamburger meat, which a horrified Hendricks discovers when she makes a trip into the basement of the restaurant that evidently takes their sourcing locally very, very seriously.
Charly Bliss, which is named after an old friend of Hendricks's ex-boyfriend, originally intended to release the single on Halloween of last year, having agonized over finding a label and eventually decided to release their debut full-length album themselves. At that point, the band had already put out a successful EP, 2014's Soft Serve, and three music videos, as well as opened for some of its idols: Veruca Salt, Sleater-Kinney, and Tokyo Police Club. (The latter marked things coming full circle: Hendricks first met Spencer Fox, the band's guitarist and occasional singer, standing outside of a Tokyo Police Club show when they were both 15.)
As it turned out, the band—which also includes Hendrick's brother Sam, who plays drums, and Dan Shure, who plays bass—ended up filming their DIY horror show at the Park Luncheonette in Greenpoint just a week or two before the Seattle-based Barsuk Records (Rilo Kiley's original label) got in touch about releasing their debut album. Guppy came out earlier this year in April, before they'd even finalized the paperwork.
In just the last few weeks, Charly Bliss has opened for Death Cab for Cutie, headlined their first European tour, and taken off for another tour with Wolf Parade. But when they were making "Scare U" into a video, their budget was practically nonexistent. Hendricks was undeterred: She powered on ordering costumes, combing the McDonald's of New York for those willing to spare a few Happy Meal boxes, and making the rest of the many props with her boyfriend, Toby Goodshank, a musician in the art collective 3MB with Macaulay Culkin and Adam Green who's worked on props for Green's movie Aladdin and a Father John Misty music video (which Fox and Shure turn up in along with Culkin).
In the end, all that turmoil ended up creating the perfectly campy setting Hendricks had been envisioning for "one of the poppiest songs on the record." And while the band had expected its catchiness to make labels position "Scare U" as the record's first single, Hendricks now actually thinks it's "kind of perfect" it's coming out last. "It's a good launch pad for what we're hoping to do next in terms of exploring our sound's pop-iness," she said.
In some ways, the band's early lack of financing was actually also to its benefit; it freed them from being entirely faithful in recreating of the original Buffy episode, which included what one fan site called a "penis demon"—the only prop Hendricks didn't seemed bothered the band couldn't afford, and one perhaps better lost to TV history.
Related: Meet Ms. Misery: 23-Year-Old Singer Phoebe Bridgers Is Making the Best Sad Songs
See W's most popular videos: