Meet Ms. Misery: 23-Year-Old Singer Phoebe Bridgers Is Making the Best Sad Songs
The musician's debut album, Stranger in the Alps, is out Friday.
---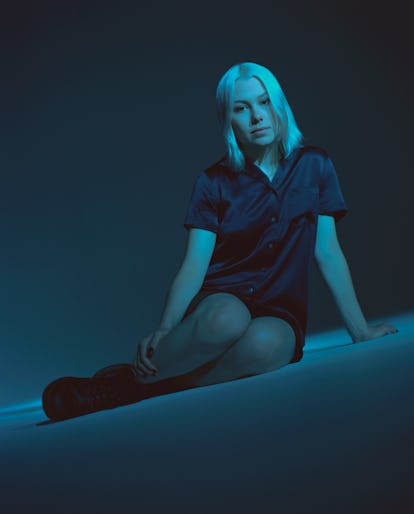 Photo by Alex Hodor-Lee.
All the songs on Phoebe Bridgers's debut album Stranger in the Alps are, to some degree, sad. But when she ascended the stage at Manhattan's Ludlow House on a recent evening, she pointed out a special sadness in the song she was about to play, "Scott Street": "This song is about drinking beer outside," she said, "which is extra sad, because I hate drinking beer. It's like warm bread water." Someone in the crowd let out a small whoop of protest. "Come find me after," Bridgers muttered into the microphone.
As her opening statement, Stranger in the Alps, out Friday on Dead Oceans, is an accumulation of music Bridgers, now 22, has been writing since she started writing songs. (Though it does not include the first song Bridgers wrote, at age 12, entitled "The Only Bird Flying the Other Way"—"so you can just know that, when I go to bed, I have that knowledge in my head," she told me the next day, "and it is disturbing to me.") Bridgers and her brother Jackson (who is named for Jackson Browne) were raised by their mother, "a really, really big music fan" who encouraged her daughter to perform at any opportunity. Through a family friend, Bridgers began listening to "weirder stuff" like Guided by Voices and Girl in a Coma—and, eventually, Elliott Smith: "I'm obsessed with Elliott Smith, which is very common knowledge," Bridgers admitted. (She covered Smith's "Say Yes" at her Ludlow House show; it's Smith's complex guitar shapes she is trying to channel with Stranger in the Alps's subtle orchestration.)
"Sadness can feel so unproductive," she said. "Then, you listen to someone like Elliott Smith, and you're like, Finally."
A native Angeleno, she studied music at the Los Angeles County High School for the Performing Arts, which also counts artist Kehinde Wiley, the sister-musicians of Haim, and actress Zoey Deutch among its alumni. By her senior year, she was playing venues around L.A., which is how she met Ryan Adams through a mutual friend. They hit it off: The day after they met—"literally maybe 12 hours" later, she said—Adams invited her to his studio to record her 2015 EP, Killer.
They finished recording the EP's three tracks in just half an hour: "So manic," Bridgers told me, sighing. "He's like, kind of yelling at me—but in, like, compliments." (Now, when she listens to the EP, all she hears is her nerves.) When they were done, they went across the street to the 7-11 and bought "the most abysmal snacks ever."
With just an EP behind her, Bridgers opened for Julien Baker during her 2016 tour in support of Sprained Ankle; shortly after, she began preparing her own album in earnest. Stranger in the Alps opens with "Smoke Signals," a somber track that, when its plump bass line kicks in, resembles nothing so much as the theme from Twin Peaks. As soon as Bridgers recorded the song, she knew it would open Stranger in the Alps: "It's representative of the record to me," she said. "It's sad and it's slow, but it's lyrical and it's long." She added, "It just always made sense—maybe for no reason."
"Smoke Signals" does make a fitting overture to Stranger in the Alps: It lingers on tiny, precise scenes—much of it from Bridgers's own experiences—their specificity gesturing at something larger. "Funeral," Bridgers's most recent single, is in part about the funeral for a peer who died of a heroin overdose, but it also examines depression and anxiety. "Jesus Christ, I'm so blue all the time," Bridgers sings, sounding surprised even at herself.
Towards the end of 2016, while she was recording the album, Bridgers opened for Conor Oberst during a secret show he put on at L.A.'s Bootleg Theater. At the same time, Oberst's Bright Eyes bandmate Mike Mogis signed on to mix the record at his Omaha studio; Bridgers, as a result, spent five days in Nebraska with Mogis and Oberst, who live on the same property. "It was just very fast friends," she said. Earlier this year, Bridgers opened for Oberst on several more tour dates; there are a couple videos floating around Youtube in which Bridgers and Oberst duet on Bright Eyes' "Lua."
Oberst is also featured on Stranger in the Alps, in "Would You Rather," and as the album was coming together, Bridgers emailed it to him for notes.
"He said like a paragraph about each song. It was so comprehensive and sweet," she recalled. Then, he came to the album closer, a cover of Mark Kozelek's "You Missed My Heart." His response: "THAT'S INTENSE," Bridgers recalled. "All capital letters."
Though Bridgers's music dwells on mortality, obsession, and heartbreak, the musician herself is quick to deliver dry one-liners; for all she fixates on dark themes in her music, the title Stranger in the Alps is also a slight wink at The Big Lebowski. The record might be sad, but it's also full of witty moments and literary references, making it feel like a full portrait of a bold new artist.
"It's a record I've been waiting to put out since I started playing music," Bridgers said. "It feels like I haven't told the universe what I am yet."
James Corden reveals the secret to a great karaoke performance: