Cooking with Gas
Known for his hot restaurants and fiery temper, chef Tom Aikens is burning up the London food scene.
---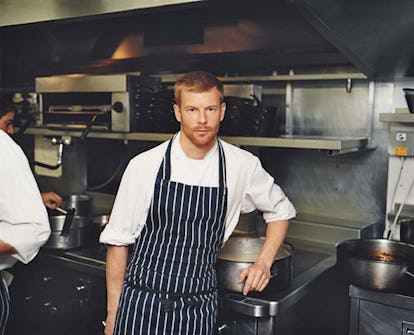 Unlike fellow Brit chefs Jamie Oliver, Gordon Ramsay and Nigella Lawson, 37-year-old Tom Aikens has steered clear of TV cameras, chatty cooking columns and eponymous cheese graters. He's certainly got the chiseled good looks, the culinary chops—at 26, he became the youngest Brit to win two Michelin stars, at Pied à Terre in London's West End—and a glamorous young society wife, to boot. But the rusty-haired chef describes himself as not a "great communicator." And besides, who would man the burners if he went off seeking foodie fame? "Once you go down the TV route," says Aikens, "it does kind of take a little bit of magic away."
Aikens has two restaurants on London's posh Chelsea Green, a charming enclave of town houses, quaint but pricey shops and cobblestone lanes. The Michelin-starred Tom Aikens serves up modern but hearty French cuisine—think braised pig's head and roast scallops with poached grapes and Pernod—to big names like Michael Caine, John Malkovich, Bryan Ferry and Joan Collins. Nearby, Tom's Kitchen, an all-day brasserie that opened to rave reviews last November, offers Anglo-French comfort food like pea soup, goat cheese salad and braised pig trotters. Now, just down the street, he's opening a third outpost. Called simply Tom's Place and set to open in mid-September, it's Aikens's take on that least gourmet of English eateries: the fish-and-chips shop.
"Fish-and-chips is the last bastion of fast food that hasn't really been modernized," says the chef on a gray morning at Tom Aikens. "The fish that's most common on menus are on the highly endangered list, and the majority of it is frozen." A stickler for seasonal, organic, locally produced food, Aikens plans to take a different tack. Unlike the typical English "chippy," which offers a staggering array of seafood species, "we're only going to use four or five types of fish," he says, "including pollack and ling, which are both in the cod family but not as endangered." All of it will be locally sourced, supplied by day boats trawling British waters, primarily around the Cornish coast. And the restaurant itself will also be environmentally friendly, with tables, trays and wall tiles made from recycled plastic and with recyclable wooden cutlery, paper cups and napkins.
Aikens credits his eco-consciousness to the time he spent working as a personal chef for Carole Bamford, England's green queen. The founder of the Daylesford Organic food company as well as Bamford & Sons, an eco-clothing brand, Lady Bamford and her family are so insistent on local, organic ingredients that they run their own farm, breed livestock on their Gloucestershire estate and even have their own abattoir. "Working with her and on the farm definitely made me think twice about what I was doing," says Aikens, who admits that beforehand he'd never really considered where his raw ingredients were coming from.
The experience with Bamford was a good one, but the circumstances that landed him in the field of personal cheffing were far from optimal. In 2000 he quit Pied à Terre under a dark cloud after reportedly burning a trainee cook with a hot knife. "He was this 26-year-old psychopath determined to keep Pied à Terre's two Michelin stars," says Aiden Byrne, head chef at the Dorchester hotel's The Grill, who worked for Aikens at Pied à Terre and now counts him as a friend. "The atmosphere in the kitchen was like a dungeon. There were times when I hated Tom as much as I love him now."
Aikens discovered his love of food early. Born in Norwich to a family of wine merchants, he spent his childhood summers at the family's converted barn in the Auvergne region of central France. "It was idyllic," he says. "We had wild strawberries growing in the garden, plum and walnut trees, and we'd get warm milk from the cows in the morning." When they were 16, Aikens and his identical twin brother, Robert (who now works with him), enrolled at the Hotel School at City College Norwich, and not long after graduation, Tom moved to London, where his first major job was working for Pierre Koffmann at the two-Michelin-starred French restaurant La Tante Claire. In 1993 he joined Pied à Terre, where he cooked for acclaimed chef Richard Neat, and later moved to Paris to work for culinary legend Joël Robuchon. It was a challenging position to say the least: Aikens and the rest of the kitchen staff were forbidden to talk during service, and his schedule was so grueling that he began to suffer splitting headaches brought on by lack of sleep. By 1996 he was back in London at Pied à Terre, this time as head chef and co-proprietor.
Aikens acknowledges that he may have been too immature for such a serious job. "I got the stars at Pied à Terre at a very early age. I'd say a bit too early," he says. "I worked my arse off, and I guess I wasn't, you know, a people person and a manager. I didn't have the experience."
His personal relationships have also suffered from his type-A approach to his career. His seven-year marriage to Laura Vanninen, who was also his business partner at Tom Aikens, broke down in 2004, a year after they opened the first Chelsea restaurant. At the time, his workdays were literally endless: Aikens and his chefs would often rise at 3 a.m. to get to the market and finish at one or two the next morning. "It was very, very, very intense for about three years," remembers Byrne, who worked there in the early days. "But we were there for a cause. It was our restaurant, we believed in it, and we were loyal to Tom."
Byrne's not the only one. "He's strict and disciplined and one of the greatest chefs around," says London society fixture and designer Anouska Hempel, who did the interiors for Aikens's first restaurant and has employed him as a private chef. "He can turn his hand to anything. In Italy he'll go to a market and come home with 16 mushroom varieties you've never heard of. In France, it's cheese. Tom is fascinated by food and is on a constant search to make his better."
And nothing, it seems, gets in the way of that search—not even a walk down the aisle. In June he married Amber Nuttall, a London publicist and former chef whose late father was Sir Nicholas Nuttall, heir to a civil engineering empire. (Nuttall's mother, Miranda Quarry, is an ex-wife of Peter Sellers's and is now married to the Earl of Stockton.) The day after the festivities, which were attended by several members of the Parker Bowles family and society decorator Nicky Haslam, the couple pulled on their Wellies and took off for the Cornwall villages of Newland, St. Ives and Falmouth "to see fishermen and go to the markets, go direct to the source," as Aikens describes the honeymoon. Ahhh…romance.