Cher Clapped Back at George Miller and Jack Nicholson for Calling Her "Too Old"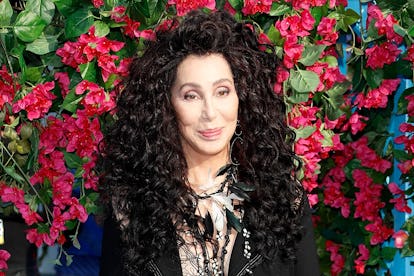 David M. Benett/Getty Images
Cher's name deserves to be associated with any number of superlatives. Too fabulous? Naturally. Too otherworldly? Oh, for sure. Too talented? Definitely. But too old? Never. Unfortunately, that's apparently not the way Jack Nicholson and director George Miller saw it way back in 1986, when Miller called her on the morning after her 40th birthday party.
According to The Hollywood Reporter, the superstar, now 72, recounted the story during a show at the Borgata in Atlantic City over the weekend. After descending onto the stage as real-life goddesses tend to do, Cher regaled those in attendance with the sordid tale that's obviously stuck with her until this day.
After celebrating her birthday and going to sleep "dreaming these fabulous thoughts of being 40," Cher was awoken by a phone call from Miller, who was set to direct her in The Witches of Eastwick alongside Nicholson. Here's what he allegedly said, at least to Cher's recollection: "Hi, Cher, it's George Miller…I just wanted to call and tell you that I don't want you in my movie and Jack Nicholson and I think you're too old and you're not sexy."
Cher described how Miller's cruel words brought her to tears and that instead of hanging up the phone after his initial insult, he reportedly continued. "'I hate the way you walk," he allegedly told her. "I hate the way you talk, I don't like the color of your hair, I don't like your eyes." But at that point in her career, Cher wasn't the kind of impressionable ingénue who might have let a powerful director get away with speaking to her like that. She was Cher, dammit, and she let Miller know it. "Okay, look motherf–ker," she told him. "You didn't find me under a rock. I was nominated for an Academy Award for Silkwood. And I got the Cannes Film Festival award for best actress for Mask.'" Her clapback must've worked since she ended up getting the part in The Witches of Eastwick alongside Susan Sarandon and Michelle Pfeiffer.
And though Cher's anecdote happened over 30 years ago, actresses in Hollywood continue to face discrimination over their age. But there has been progress, which Nicole Kidman addressed while accepting an award at last year's SAG awards. After thanking actresses like Susan Sarandon, Jessica Lange, and Meryl Streep for continuing to give "trailblazing performances," well beyond their 40s, she said: "Twenty years ago, we were pretty washed up by this stage in our lives, so that's not the case now. We have proven [that] these actresses and so many more are proving that we are potent and powerful and viable. I just beg that the industry stays behind us, because our stories are finally being told. It's only the beginning, and I'm so proud to be a part of a community that is instigating this change."
Related: Why Atlantic City Is a Hotspot for Cher, Britney, and Tons of Models This Summer
Cher's Style: From Sonny to Marc
In the early '60s, Cher and her husband and musical partner Sonny Bono were instant hits, and their fashion sense reflected their success. Here in 1967, the singer shows off her long black hair and signature bangs in a loose-fitting lace dress, accessorized by chunky rings and bare feet.
Photo by Arnaud de Rosnay / Courtesy of CNP Montrose.
Cher sports a white halter-top, bell-bottoms, and feathered hat while promoting her CBS variety show "The Sonny & Cher Comedy Show" in 1972. Photo by CBS Photo Archive / Getty Images.
In this now-iconic 1974 photo, Cher steals the show at an L.A. event with a wide felt hat and purple eye shadow, nails, and lips.
Photo by Michael Ochs Archives / Getty Images.
Having grown out her iconic bangs, Cher takes to a 1975 party at L.A.'s Greenhouse in a beaded halter-top, loose wide-leg pants, and long metallic nails.
Photo by Frye Vincent / Courtesy of CNP Montrose.
Marc Jacobs is not Cher's first designer romance. Beginning in 1967, Bob Mackie created some of the performer's most memorable looks (including a sheer dress at the 1974 Met Gala that Kim Kardashian cited as inspiration this year). Here, the singer and actress shows off one of his metallic designs in a 1978 photo shoot.
Photo by Harry Langdon / Getty Images.
Cher dons another Mackie creation at the 1986 Academy Awards.
Photo by Julian Wasser / Liason.
Even Cher's off-duty styles—like this glitzy jean-and-t-shirt combo in 1987—deserve applause.
Photo by Anthony Barboza / Getty Images.
The singer ups the ante for her 1999-2000 "Do You Believe?" tour, which coincided with her 22nd album, "Believe."
Photo by Peter Still / Redferns.
Though longtime collaborator Mackie was unable to design the costumes for the first leg of Cher's 2014 "Dressed to Kill" tour, that didn't stop the star from going over the top. Working with designer Hugh Durrant, the star created 14 looks, including this beaded jumpsuit, moto jacket, and oversized hair ensemble.
Photo by Kevin Mazur / WireImage.
Just as he did with Jessica Lange in 2014, Marc Jacobs courts his soon-to-be-campaign star at the 2015 Met Gala. And the rest, as they say, is history.
Photo by Sherly Rabbani and Josephine Solimene.