Cher Clapped Back at a Twitter User Over DACA and the Internet Loved It
"Then keep your eyes open."
---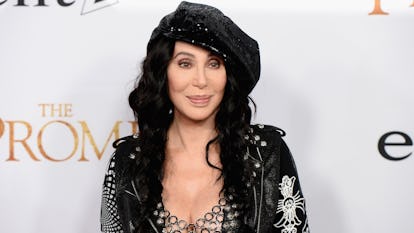 Tara Ziemba/Getty Images
The always iconic Cher has established that she is just as iconic on Twitter, frequently shading President Donald Trump by using the toilet emoji instead of his name. And her latest political clap back has everyone cheering once again in the wake of Trump's order to end the Deferred Action for Childhood Arrivals (DACA), an immigration policy that offers young people, who came to the United States as children, who meet a specific set of requirements, to receive a renewable two-year period of deferred action from deportation.
Cher went on an emoji-filled Tweetstorm about the decision, saying, "Those Who Can Must Take a DREAMER In2 Their Home & Protect Them‼️I'm Ready 2 Do This & ??Others in MY BUSINESS WILL DO THE SAME‼️SANCTUARY." ("Dreamers" refers to those undocumented immigrants who benefit from DACA's policies.) One Twitter user, @bwebb56, who has since made her account private, doubted that the singer would actually put her money where her mouth is, so to say, writing that she would "believe it when she saw it." And, well, we found out what happens when you question Cher. She called the naysayer out to her millions of followers in six simple words: "Then keep your eyes open b—-."
Needless to say, people were shook, writing things such as, "RT if you're okay with using tax dollars to mosaic the walls of Trump's cell with Cher's tweets," and "gotta delete your whole account now." Cher hasn't been the only celebrity to speak out against Trump and his DACA policies. Lauren Jauregui, tech leaders like Tim Cook and Mark Zuckerberg, and President Barack Obama have all condemned the latest ruling.
Related: Trump Ends DACA, Sparking Outrage From Celebrities
I Am An Immigrant:
Cher's Style: From Sonny to Marc
In the early '60s, Cher and her husband and musical partner Sonny Bono were instant hits, and their fashion sense reflected their success. Here in 1967, the singer shows off her long black hair and signature bangs in a loose-fitting lace dress, accessorized by chunky rings and bare feet.
Photo by Arnaud de Rosnay / Courtesy of CNP Montrose.
Cher sports a white halter-top, bell-bottoms, and feathered hat while promoting her CBS variety show "The Sonny & Cher Comedy Show" in 1972. Photo by CBS Photo Archive / Getty Images.
In this now-iconic 1974 photo, Cher steals the show at an L.A. event with a wide felt hat and purple eye shadow, nails, and lips.
Photo by Michael Ochs Archives / Getty Images.
Having grown out her iconic bangs, Cher takes to a 1975 party at L.A.'s Greenhouse in a beaded halter-top, loose wide-leg pants, and long metallic nails.
Photo by Frye Vincent / Courtesy of CNP Montrose.
Marc Jacobs is not Cher's first designer romance. Beginning in 1967, Bob Mackie created some of the performer's most memorable looks (including a sheer dress at the 1974 Met Gala that Kim Kardashian cited as inspiration this year). Here, the singer and actress shows off one of his metallic designs in a 1978 photo shoot.
Photo by Harry Langdon / Getty Images.
Cher dons another Mackie creation at the 1986 Academy Awards.
Photo by Julian Wasser / Liason.
Even Cher's off-duty styles—like this glitzy jean-and-t-shirt combo in 1987—deserve applause.
Photo by Anthony Barboza / Getty Images.
The singer ups the ante for her 1999-2000 "Do You Believe?" tour, which coincided with her 22nd album, "Believe."
Photo by Peter Still / Redferns.
Though longtime collaborator Mackie was unable to design the costumes for the first leg of Cher's 2014 "Dressed to Kill" tour, that didn't stop the star from going over the top. Working with designer Hugh Durrant, the star created 14 looks, including this beaded jumpsuit, moto jacket, and oversized hair ensemble.
Photo by Kevin Mazur / WireImage.
Just as he did with Jessica Lange in 2014, Marc Jacobs courts his soon-to-be-campaign star at the 2015 Met Gala. And the rest, as they say, is history.
Photo by Sherly Rabbani and Josephine Solimene.