Trump Ends DACA, Sparking Outrage From Celebrities
"Pardoning criminals and criminalizing the vulnerable."
---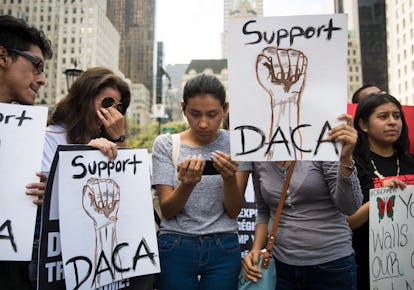 Drew Angerer/Getty Images
President Donald Trump made yet another divisive move today, announcing his plans to end the Obama-set policy known as Deferred Action for Childhood Arrivals (DACA). Attorney General Jeff Sessions was charged with delivering the news, stating, "I am here today to announce that the program known as DACA that was effectuated under the Obama administration is being rescinded" on Tuesday, September 5, CNN reports. Established five years ago, DACA ensures protection for the children of illegal immigrants, covering almost 800,000 according to CNN.
"As I've said before, we will resolve the DACA issue with heart and compassion – but through the lawful Democratic process – while at the same time ensuring that any immigration reform we adopt provides enduring benefits for the American citizens we were elected to serve," Trump said in a statement. "We must also have heart and compassion for unemployed, struggling, and forgotten Americans."
While the exact ramifications are not yet known, as Congress is still able to save the program ahead of its March 5, 2018 deadline, it is deeply upsetting to many — some of whom took to social media to voice their opinions about it. "A cowardly act by a cruel, vindictive and heartless administration intent on tearing at the very fabric of the American dream. #shame," wrote Mark Ruffalo on Twitter. His thoughts were echoed by celebrity peers such as Fifth Harmony's Lauren Jauregui — a vocal Trump opposer — who eloquently pointed out how ending DACA would affect countless dreamers hoping to prosper in the United States. "It's incredible to me that you'll pardon a man who is known for running his prison as a Latino concentration camp and call him a patriot, but then deport kids with a dream to be successful citizens with safe lives," she wrote, referencing former Maricopa County, Arizona sheriff Joe Arpaio. "Pardoning criminals and criminalizing the vulnerable."
Even former president Barack Obama took to social media to speak out against Trump's latest decision. "This is about young people who grew up in America – kids who study in our schools, young adults who are starting careers, patriots who pledge allegiance to our flag. These Dreamers are Americans in their hearts, in their minds, in every single way but one: on paper," he wrote in a Facebook post. ""To target these young people is wrong – because they have done nothing wrong. It is self-defeating – because they want to start new businesses, staff our labs, serve in our military, and otherwise contribute to the country we love. And it is cruel." Take a look at that and the the many other celebrity reactions below.
Barack Obama
Lin Manuel-Miranda
Gina Rodriguez
Cher
Lauren Jauregui
Ava DuVernay
Yvette Nicole Brown
Troian Bellasario
Shailene Woodley
Mia Farrow
Camilla Cabello
Mark Ruffalo
Cristela Alonzo
Related: A Brief History of Donald Trump and Chrissy Teigen's Storied Relationship on Twitter—Before the President Blocked Her
I Am an Immigrant: