Celebrities React to Donald Trump's Ban on Transgender Military Members
"Every single trans person is braver than Donald Trump."
---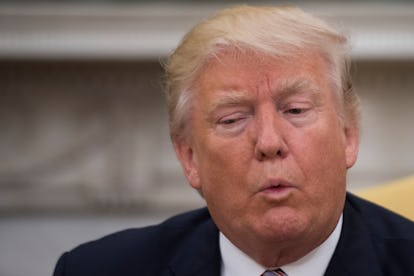 JIM WATSON
Donald Trump issued a missive on Twitter this morning announcing that his administration would reverse an Obama administration decision to allow transgender individuals to serve openly in the military. The announcement came a little more than a year after the military announced that all transgender people currently enlisted could continue to serve, and a day before a deadline was set for the military to announce updates to its medical services policies to accommodate transgender soldiers. Incidentally, and likely on purpose, the announcement also comes right in the middle of debate of the Republican's controversial healthcare bill in the Senate. In pandering to his base, Trump is betting that any outcry over his latest decision will drown out roiling controversies involving the healthcare bill and Special Counsel Robert Mueller's investigation into Russian meddling in the U.S. election.
"After consultation with my Generals and military experts, please be advised that the United States Government will not accept or allow Transgender individuals to serve in any capacity in the U.S. Military," Trump wrote over three Tweets. "Our military must be focused on decisive and overwhelming victory and cannot be burdened with the tremendous medical costs and disruption that transgender in the military would entail. Thank you." The tweet seems to have caught the Pentagon by surprise, since the policy addressing transgender military members was still on its site.
Though Trump cited guidance from within the military, The Washington Post points out that Brad Carson, a former congressman who worked on transgender policy, says that he had never a single member of the Joint Chiefs of Staff advocate for a full-on ban.
The decree is not incidental, and could effect the lives, well-being, careers and paychecks of thousands of transgender Americans. A study cited by PBS News Hour suggests that as many as 1 in 5 transgender individuals in America have served in the military (a rate twice that of the general population), and that as many as 15,500 transgender individuals are currently enlisted. As is typical for the Trump administration now, the bombastic announcement was made with little detail.
The reaction was swift, including from Hollywood. Here's a rundown of some of the most notable celebrity reactions, though, Caitlyn Jenner, a Trump supporter, is notably not among them:
Janet Mock
Candis Cayne
George Takei
Andy Cohen
Dustin Lance Black
Mia Farrow
St. Vincent
Ike Barinholtz
Reece King
Demi Lovato
Olivia Munn
Lena Dunham
James Corden
Zoe Kazan
Related: Lana Del Rey Casually Confirms She Indeed Hexed Donald Trump
See What's Trending in W Video: