A Cher Musical Is Officially Coming to Broadway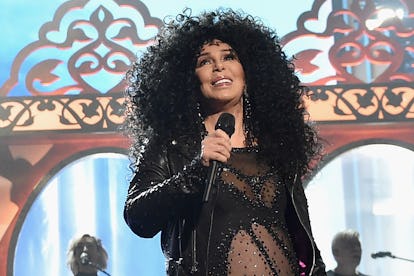 John Shearer/BBMA2017/Getty Images
Cher's first "farewell" tour started 18 years ago, and yet she remains a constant on stage. Her "Classic Cher" residency tour kicks off its fourth leg later this summer in Las Vegas, and now she's making plans to conquer another stage. Albeit this time as a character.
Cher has announced that a musical based on her definitely worthy-of-a-musical life, titled Cher: The Musical, has been officially green-lit and will be making its way to Broadway in 2018. Naturally, the musical will be featuring a cornucopia of songs from Cher's extensive catalog and is being described by [Deadline](http://deadline.com/2017/06/cher-the-musical-on-broadway-2018-1202108762/) as a retelling of the star's life, from her "childhood in L.A. and singing backup vocals as a teenager, to her meeting with the late Sonny Bono in 1962, and how they made it to the top of the music business," and beyond. Cher's bona fide solo pop star and movie star status in her later years will also be explored in detail, and expect the likes of Bob Mackie, David Geffen, Gregg Allman, and Sigmund Freud to appear in the cast.
"Just got off phone w/Writer & Director of musical. There Will ? performance in THEATRE WITH ACTORS,DANCERS,SINGERS‼️" Cher enthusiastically tweeted on Tuesday evening. "IT'll ?ON BROADWAY 2018."
This follows up her initial tweet about the musical from January, where she sat through a table read of the script. "Just walked Of the musical✨?✨I SOBBED & LAUGHED,& I WAS PREPARED NOT 2LIKE IT," she tweeted at the time. "AUDIENCE CLAPPED AFTER SONGS,& GAVE IT STANDING OVATION?."
With her arrival on Broadway, Cher—who recently brought the house down at the Billboard Music Awards—joins the growing list musicians who are taking their talents or life stories to the stage. It was just announced that Cyndi Lauper will be writing the music for Working Girl when it comes to Broadway, for instance, and Jimmy Buffett's Margaritaville musical is set to debut in New York in 2018.
Not to mention, Cher is only a Tony away from obtaining that highly coveted EGOT status. The stars seem to be aligning for her now, no?
Related: Billboard Music Awards 2017: Cher Wore Two Sparkly Looks from Her Own Archive to Accept Icon Award
Cher's Style: From Sonny to Marc
In the early '60s, Cher and her husband and musical partner Sonny Bono were instant hits, and their fashion sense reflected their success. Here in 1967, the singer shows off her long black hair and signature bangs in a loose-fitting lace dress, accessorized by chunky rings and bare feet.
Photo by Arnaud de Rosnay / Courtesy of CNP Montrose.
Cher sports a white halter-top, bell-bottoms, and feathered hat while promoting her CBS variety show "The Sonny & Cher Comedy Show" in 1972. Photo by CBS Photo Archive / Getty Images.
In this now-iconic 1974 photo, Cher steals the show at an L.A. event with a wide felt hat and purple eye shadow, nails, and lips.
Photo by Michael Ochs Archives / Getty Images.
Having grown out her iconic bangs, Cher takes to a 1975 party at L.A.'s Greenhouse in a beaded halter-top, loose wide-leg pants, and long metallic nails.
Photo by Frye Vincent / Courtesy of CNP Montrose.
Marc Jacobs is not Cher's first designer romance. Beginning in 1967, Bob Mackie created some of the performer's most memorable looks (including a sheer dress at the 1974 Met Gala that Kim Kardashian cited as inspiration this year). Here, the singer and actress shows off one of his metallic designs in a 1978 photo shoot.
Photo by Harry Langdon / Getty Images.
Cher dons another Mackie creation at the 1986 Academy Awards.
Photo by Julian Wasser / Liason.
Even Cher's off-duty styles—like this glitzy jean-and-t-shirt combo in 1987—deserve applause.
Photo by Anthony Barboza / Getty Images.
The singer ups the ante for her 1999-2000 "Do You Believe?" tour, which coincided with her 22nd album, "Believe."
Photo by Peter Still / Redferns.
Though longtime collaborator Mackie was unable to design the costumes for the first leg of Cher's 2014 "Dressed to Kill" tour, that didn't stop the star from going over the top. Working with designer Hugh Durrant, the star created 14 looks, including this beaded jumpsuit, moto jacket, and oversized hair ensemble.
Photo by Kevin Mazur / WireImage.
Just as he did with Jessica Lange in 2014, Marc Jacobs courts his soon-to-be-campaign star at the 2015 Met Gala. And the rest, as they say, is history.
Photo by Sherly Rabbani and Josephine Solimene.
See What's Trending in W Video: