Model Sophie Koella on Why Getting Cast to Open the Chloé Show Was a Feminist Stance
The French-American model on body standards in fashion and meeting Beyoncé's body double.
---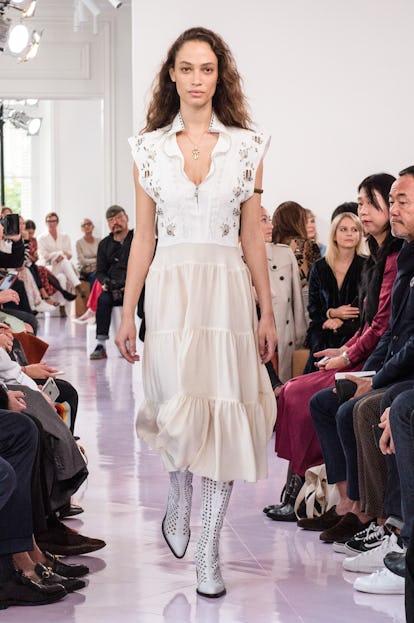 Peter White/Getty Images
When Sophie Koella arrived in Paris over the summer to meet Natacha Ramsay-Levi, who had just been named the new artistic director of Chloé in March following the departure of Clare Waight Keller to Givenchy, she thought she might be expected to demonstrate her walk, but little more. Cut to her trying on many of the inaugural looks for Chloé's Spring 2018 show. A couple days later, she received the confirmation: She had been booked as an exclusive to open the show.
The Chloé show, which took place during Paris Fashion Week last Friday, was not just an auspicious occasion for Ramsay-Levi, who presented her opening statement as the French brand's edgy new voice. It was also one for Koella; though she was scouted for commercial work at age 14, and though she had gone to castings for the last several seasons, Chloé was her first time on the runway—and a runway also populated by the likes of Kaia Gerber and Lady Jean Campbell. Céline had courted her for an exclusive the previous season, but it fell through—"It all really boiled down to me having an unconventional body type," she said.
That is, 19-year-old Koella, who stands 5'9" and with what she described as "sizable boobs," is slightly outside the waifish runway norm, though not by much. Nevertheless, just before she signed with Heroes, the modeling agency that represents her in New York, she took meetings with several other agencies, including IMG—who told her, she recalled, that her main market would be the likes of Sports Illustrated and Victoria's Secret. So, Koella has approached runway castings reminding herself "how ultimately frivolous all of this is" and that she "was never going to fit into that standard."
But while Koella had never walked a runway before Friday's Chloé show, she had an established, even thriving career in commercial and editorial work. Earlier this year, she appeared in the Zoe Ghertner-photographed Ivy Park campaign that also starred Yara Shahidi, SZA, Selah Marley, and Beyoncé herself. SZA and Marley, the daughter of Lauryn Hill, were also on set (an airplane hangar not far from Los Angeles International Airport) the day Koella shot—as was a woman who happened to be a dead ringer for Beyoncé, and who Koella divined was Beyoncé's body double.
"I put together that Beyoncé sends this woman to all her fittings and then has pictures taken so that she doesn't have to go to her fittings herself. She just already knows what she looks like in the clothes," Koella said. "That was the closest I got to Beyoncé."
A recent New York Times story on Natacha Ramsay-Levi's Chloé debut referenced Koella obliquely, describing her as "a relative unknown" who "did not fit easily into the standard sample size"; writer Vanessa Friedman explained that Ramsay-Levi had, instead, tailored the look to Koella's measurements, positioning this as progress in an industry in which a designer would often sooner fire a model than remake a garment.
"It actually makes everything sound quite dramatic," Koella said, adding that, while the look was made to hear measurements, it was not necessarily because she did not fit sample proportions. "I fit perfectly into all the sample sizes." She did arrive in Paris several days before the show to go to fittings—first, in a prototype of her look, and then in the look itself—while making time to see her dad, a guitarist who toured with Bob Dylan in her childhood and now resides in France, largely performing and playing sessions with French musicians. She and Ramsay-Levi also hit it off—facilitated because Koella, though raised in Los Angeles, speaks French.
"What me walking for Natacha represented was a woman designer really embracing a young woman who doesn't look like she has the body of a 14-year-old boy," Koella continued. "It was about taking, I think, a strong feminist [stance]." This is something the fashion industry has been slow to embrace; though recent legislation has aimed to protect models by mandating they show proof of a healthy body-mass index and by banning size-zero women from walking during Paris Fashion Week, so-called "curve models" are still noteworthy when they walk shows like Michael Kors and Anna Sui, rather than among the norm.
And, as Koella pointed out, if she faced challenges landing runway jobs, the industry had a far greater distance to traverse towards embracing models who do not fit in the sample sizes. "If the fashion world isn't ready to embrace people like me, then there's definitely a really long way to go," she said.
"I do wonder if my bar is going to be set really high now for anything that comes next," she said of her future on the runway. "My main thing, and what was always my main thing from the get-go, was really continuing to work with people who love me for who I am and embrace me for who I am and want to elevate and empower that—because that's my goal."
Photographers "always ask" Kate Moss to take her clothes off: