Chloë Grace Moretz Comments on Brooklyn Beckham's Instagram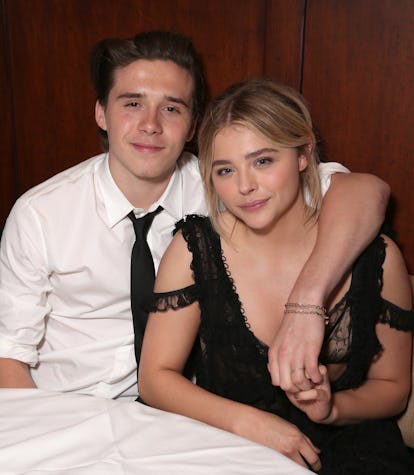 Todd Williamson
Former couple Chloë Grace Moretz and Brooklyn Beckham were recently reported to be "hanging out" again, and although that doesn't necessarily mean their relationship's back on, Moretz's latest move certainly makes it seem that way.
On Thursday, Beckham, a college student and aspiring photographer, posted a photo to Instagram in which he wears distressed jeans and a simple white tee, leans against some lockers, and sticks out his tongue while two shadowy figures look on. Fans soon noticed that not only did Moretz like the photo, but she also commented a single red heart emoji, tagging Beckham in her comment to be absolutely sure he saw it.
The mysterious move comes just a few weeks after British tabloid The Sun reported that the duo had attended a party together in Los Angeles. According to an anonymous source, Moretz arrived with Beckham and told several attendees that they had gotten back together. "She was much more open about their relationship than him. They seemed very comfortable together," the source said. Not long after, another source confirmed to People that the pair were indeed "hanging out" again.
Additionally, Moretz only just refollowed Beckham on Instagram about three weeks ago, according to a fan account. On August 7, Insta user brooklyn.chloe posted screenshots showing that Chloë had started following her ex and had liked one of the fan account's photos of the pair of them from their time together. Despite all of this confusing evidence, it's still unclear whether they're rekindling their relationship or just a friendship — friends can comment heart emojis on each other's pics, too.
Moretz, 20, and Beckham, 18, were friends several years before officially confirming their relationship in May 2016. They spent the following summer in L.A., during which they posted tons of adorable, PDA-filled pics, but then, at the beginning of September, Page Six reported that the young couple had called it quits and Beckham had returned to his native London, and he was momentarily linked to Madison Beer. Last month, Brooklyn moved to New York to study photography, so it's possible that now that he and Moretz are back in the same country, they're ready to give things a try again.
How to Date a Beckham Boy
Watch a Video Interview with Chloe Grace Moretz: