Chloë Grace Moretz Is a Conversion Therapy Rebel in The Miseducation of Cameron Post's First Trailer
Sundance winner The Miseducation of Cameron Post debuts August 3.
---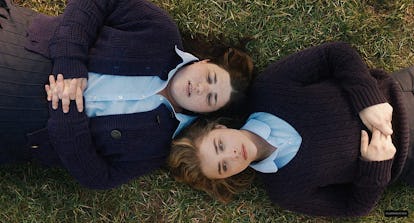 Photo courtesy of IMDB.
Awards show season is already looking good for Chloë Grace Moretz. Aside from starring in Luca Guadagnino's anticipated Suspiria homage, the actress is also carrying the story of The Miseducation of Cameron Post, a film adaptation of Emily M. Danford's 2011 novel of the same title about an orphan teen who is forced into conversation therapy by her homophobic aunt.
The clip takes the viewer into Cameron's head and conversion camp, where she finds two fellow precious teens to bond with and confide in over the course of their therapy. "Now you're officially a disciple of God's promise, welcome!" a camp counselor tells her as she's signing in, to which she responds by saying, "F—."
"Your struggle is with the sin of same-sex attraction," the camp's Dr. Lydia Marsh, played by Jennifer Ehle, tells her. "You're facing the consequences of your actions and it's ugly." Flash back to Cameron's encounter with a girl she was interested in—the relationship that her aunt reacted to by sending her to conversion therapy.
"I'm tired of feeling disgusted with myself," Cameron later tells her friends Adam Red Eagle (Forrest Goodluck) and Jane Fonda (Sasha Lane), before questioning Marsh, whom they refer to as a "Disney villain." "You have no idea what you're doing, do you?" Cameron asks her.
Moretz opened up about the role to the Motion Picture Association of America, while describing her current career approach as one focused on "projects that have significant meaning in today's climate."
"After reading the book and the script, it was apparent to me that Cameron's story needed to be told to open people's eyes and educate them on the realities of sexual conversion therapy," she said, before talking about the film's director, Desiree Akhavan. "I knew of Appropriate Behavior and was a fan of Desiree's approach to her filmmaking. Once I read this script, it was immediately apparent to me that I had to portray Cameron and that this was an incredibly important story that needed to be seen. Directors play a huge role in my choice of projects, for sure. It's always an instinctual thing. What's most important for me is to meet with the director and sit down and hear what their 'in' is on the story and how they want to depict it."
The Miseducation of Cameron Post is out August 3.