The Sevigny-Mackovic Family Gift Guide
Chloë Sevigny shares the gifts she and her stylish family are hoping to give and receive this holiday season, from an upcycled Bode jacket to an apple tree.
---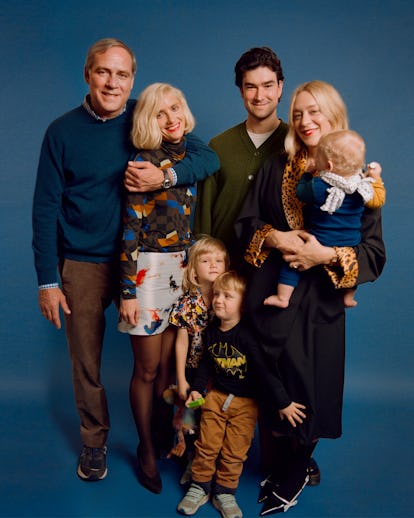 Top row, from left: Paul Sevigny, Sophie Sevigny, Siniša Mackovic, Chloë Sevigny, Vanja Sevigny Mackovic. Front: Wolfi and Maxi Sevigny. Photographed by Nolan Zangas; styled by Allia Alliata di Montereale; hair by Adam Szbo at Frank Reps using R + Co; makeup by Dan Duran at Frank Reps using Barbara Sturm Skin Care.
After she wrangles her ornaments out of storage and sets up the Christmas tree that she plans to buy in the city, Chloë Sevigny and her boyfriend, Siniša Mackovic, want to do whatever they can to make their seven-month-old baby's first Christmas memorable. "We don't want to deprive him," the actress told W over the phone. "Not that he'll know it's happening, but we can take pictures for later."
While the Sevigny-Mackovic family's annual tradition of going to Rockefeller Center will likely have to be put on hold, which is admittedly a disappointment, there's been at least one silver lining to this markedly different holiday season. "We have been following closely what's been going on with the tree and the little owl," Sevigny said, referring to the stowaway bird that was found hiding in this year's 75-foot Christmas tree and recently released back into the wild. "We were really in love with the owl. My mom kept wanting to see pictures," the actress explained through laughter. "This year is so different," she went on. "I'm trying to think of something we would do. Maybe watch A Christmas Story on TV with everybody around?"
The gift list shared by Sevigny's family of tastemakers—Sevigny's brother, Paul, is a DJ and nightlife staple; her sister-in-law, Sophie, is a designer; and Mackovic is a director at the East Village art gallery Karma—includes very New York must-haves alongside experiences, donations, and things that Sevigny says are worth the investment, like an upcycled Bode jacket (to match with one for her son, if possible) and a Citi Bike membership.
Sevigny plans to give Mackovic a coveted Telfar Shopping Bag. The large size, in either tan or gray, would serve as his work bag, but the It girl turned It mom (who has a small black one) admitted the bigger one could also double as a parenting staple. "I want to support independent Black-owned businesses when I can, and this tote is very functional," Sevigny said. "It's lightweight and durable, and you can wipe it off, yadda yadda. It checks all the boxes as far as diaper bags are concerned, except it doesn't zip. You have to be okay with putting it under the buggy and letting the New York whatever-it-may-be possibly contaminate the contents," she said with a laugh.
So far, like just about everyone else wishing for one of the bags this year, Sevigny has had to sign up for the sale notifications because "they just go like hotcakes." In terms of what she'd like to receive, she's eyeing one of the books Mackovic designs at Karma, specifically a Gertrude Abercrombie monograph of surrealist paintings from the '30s to early '70s.
Sevigny also said she'll support her family by treating her friends, once everyone can safely grab cocktails together, at Paul's Casablanca or Paul's Cocktail Lounge, two nightlife spots in the city owned by her brother. "There are so many deaths and atrocities associated with Covid-19, including the demise of New York businesses," the actress explained. "We'll get a table, like a bottle service kind of style, and treat everybody. I used to do that, and it's always fun, because otherwise everybody has to navigate the bill, and put their cards down, and some people don't drink and some people do, and it's just so much cleaner and more fun to just treat everybody."
Sevigny wants to buy her mother a copy of Caste: The Origins of Our Discontents by Isabel Wilkerson ("a must-read" that has been praised by everyone from Mariah Carey to Oprah), and as for her sister-in-law, Sophie, she wants to give her a bottle of Little Flower, the fragrance Sevigny created with Régime des Fleurs. "I just found out that she never got one," the actress said. "Especially during the cold, gray winter, it's always uplifting to smell a fresh garden rose."
Sophie, who is married to Sevigny's brother, Paul, uses recycled marine rope and nylon cords to make key rings, mats, and even needlepoint purses (one of which she has already made for Chloë) for her Serpentsea brand. Depending on the occasion, the designer will give gifts that are from her collection of handmade goods. "I'm really hoping she gives me one of her chokers," Sevigny whispered.
And to her baby son, Vanja, the actress would like to give the gift of planting an apple tree via the Fruit Tree Planting Foundation, a nonprofit that plants fruit trees worldwide, including in Indigenous and underserved communities in the United States. "I would love to plant this apple tree with Vanja at my mother's house, and then he can take care of it and watch it grow and flourish over the years," she said. "I think he would appreciate that. I'm going to try and instill a real love of nature and the earth, and respect for our surroundings, in him. I think that would be meaningful."
Chloë and Siniša's Gift List:
Arthur Arbesser Patchwork Sweater, $715, arthurarbesser.com
Unicorn by Bela Borsodi, $50, dashwood.com
Serpentsea Homemade Needlepoint Coin Purse
Belmond Cap Juluca Hotel Stay, belmond.com
Onka Allmayer-Beck Ceramics, instagram.com/onxydizzyfingers
Serpentsea Mat, $295, serpentsea.com
Baccarat Harcourt Candlestick, $430, baccarat.com
Fernet-Branca, brancausa.com
Caste by Isabel Wilkerson, $15, amazon.com
Citi Bike Membership, $179, citibikenyc.com
Chloë Sevigny Little Flower Perfume, $205, regimedesfleurs.com
Polaroid Now Starter Set, $145, polaroid.com
Passes to the Russian & Turkish Baths in New York City, russianturkishbaths.com
A Donation to the Fruit Tree Planting Foundation, ftpf.com
A Donation to the Hetrick-Martin Institute, hmi.org