Choupette, Karl Lagerfeld's Cat, Is "Devastated" To Be a Victim of Instagram Hacking
Choupette was "devastated," she tells W.
---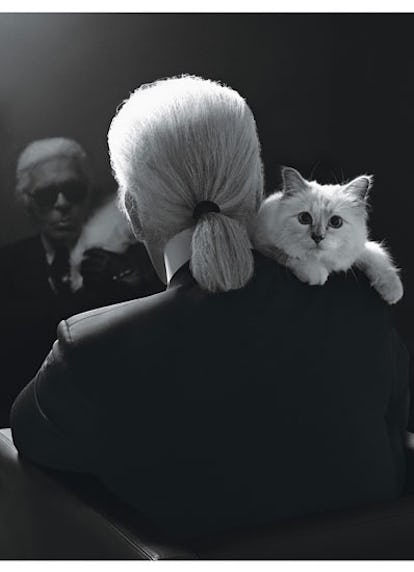 Almost as iconic as Chanel fashion designer Karl Lagerfeld himself is his fabulous cat, Choupette. Even though she is just a cat, the 5-year-old lives like a queen.
Rumor has it that she has two maids, she made 3 million euros in one year, and she has her own social media accounts. Her latest rite of passage as a celebrity in her own right? Her social media presence, specifically Instagram, has been hacked.
Ashley Tschudin, who manages Choupette's Instagram and Twitter accounts, put out a call for help upon realizing that the cat's Instagram password had been changed. "ATTENTION! Somebody hacked my Instagram & changed the PW. Anyone have a contact at Instagram to send moi? Merci!" she tweeted from Choupette's Twitter account, according to WWD.
The tweet has since been removed — seemingly because the situation was remedied. Tschudin is now back in control of the account. "All is well that ends well dahhhlings!," she tweeted with a kissing cat emoji. And luckily, the hacker doesn't seem to have done anything too drastic with Choupette's account, as no new posts were shared on Instagram while the account was out of Tschudin's hands.
"I hadn't been able to log in for one week and the password had been changed," Tschudin explained to W in an email. She has no idea who hacked the account, but she said that social media contacts helped her get in touch with an Instagram employee who remedied the situation. "From this experience, I have learned the importance of the 2-step authentication system. It's not worth risking losing so much hard work," she warned. (Instagram actually just rolled out 2-step authentication.)
But while Tschudin handled the situation professionally, Choupette took things pretty rough. "Choupette was devastated," Tschudin told W. "Does anything really happen if it isn't shared on Instagram? It's like her whole week was a figment of her imagination without photographic proof."
We hope Choupette is feeling better now that she can freely 'gram again. (We think she is, considering she posted an adorable video late Thursday afternoon.)
Now, enjoy some more glamorous images of Queen Choupette.
Karl Lagerfeld: "Chanel is About Ease":
10 Famous Pets to Follow on Instagram