Chris Hemsworth Is a Sexy Cult Leader in Bad Times at the El Royale Trailer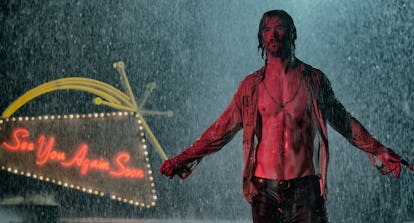 20th Century Fox
Consider this your gritty, hard-boiled substitute to The Grand Budapest Hotel with a dash of Murder on the Orient Express interpersonal intrigue. Wes Anderson would never!
The first trailer for Bad Times at the El Royale dropped Thursday, and besides the requisite shot of a shirtless Chris Hemsworth gracing the screen—giving the people what they want, truly—this looks like an intriguing drama with a dynamite cast. Set in a storied but crumbling hotel on the California–Nevada border, the period piece unfolds when seven assorted guests check in for the evening of what should seemingly be drinking and snoozing—including Jon Hamm as a vacuum cleaner salesman, Jeff Bridges as a refined priest, and Hemsworth as a cult leader—but transforms into a full-fledged thriller with everyone trying to hide their super dark secret, at whatever the cost. (Twist: Bridges's character isn't actually a priest.) So, yes, there's probably going to be a murder or two, and it doesn't help that a group of sinister people are watching their every move from afar.
"I knew this was going to be a hard movie to pitch. I just went and wrote it on spec so I could just hand them the document and say, 'Here's what it is.' Anything in one-sentence form was going to sound trite," the film's director, Drew Goddard, recently explained to EW, noting how rewarding it is to blend original humor and drama in modern filmmaking. (You know his directorial work from The Martian, which was successful with its genre-bending.) "That's what movies are missing—I can watch these movies and know where they're going to go, because they have to support the franchise, so there isn't a true danger, one that movies that are wholly original have."
The film will be out on October 5. Think of Hemsworth's abs in the meantime.
18 Photos of Chris Hemsworth and His Glorious Superhero Physique
A young Chris Hemsworth attends the Star Trek Los Angeles premiere in 2009, wearing a slim fitting suit .

Photo by Getty.
While out in Santa Monica with wife Elsa Pataky, Hemsworth shows off his toned biceps in a casual tee.

Photo by Getty.
At the photocall for Thor in Madrid in 2011, Hemsworth wore his blonde locks combed over with a fitted navy button-up.

Photo by Getty.
Rocking bleach blonde tips and chiseled abs, Hemsworth takes a trip to the beach for a quick surf.

Photo by Diimex.
Arriving at the taping of the Late Show With David Letterman in 2012, Hemsworth paired his blonde man bun with a fitted leather jacket.

Photo by Getty.
Hemsworth showed off his toned arms while walking the streets of London.

Photo by Getty.
While vacationing in Sydney, Australia, Hemsworth shows off his poolside toned abs wearing his hair in a sleek bun.

Photo by Getty.
At Byron Bay in Australia, Hemsworth was spotted out surfing rocked his toned physique.

Photo by Getty.
While out in Los Angeles, the Thor actor wore a sleeveless shirt that showed off his ripped biceps.

Photo by Getty.
Taking a break from waves in Byron Bay, Hemsworth shows off his chiseled torso.

Getty.
While hosting Saturday Night Live in 2015, Hemsworth shows off his toned abs during the sketch.

Photo by Getty.
Hemsworth paired his toned physique with a baseball cap and sunglasses while out surfing in Australia.

Photo by Media-Mode.
The Thor actor is spotted surfing back at Byron Bay revealing his athletic physique.

Getty.
Rocking tousled waves with his toned biceps and chiseled abs, Hemsworth looked relaxed at Byron Bay in Australia.

Photo by Splash News.
Chris Hemsworth is seen on July 19, 2018 in San Sebastian, Spain. Photo courtesy of Getty Images.

Europa Press
Chris Hemsworth is seen on January 10, 2018 in Los Angeles, California. Photo courtesy of Getty Images.

PG/Bauer-Griffin
Molly Smith (C) and Chris Hemsworth attend The "12 Strong" World Premiere after party on January 16, 2018 in New York City. Photo courtesy of Getty Images.

Dimitrios Kambouris
Chris Hemsworth is seen on April 27, 2018 in Los Angeles, CA. Photo courtesy of Getty Images.

SMXRF/Star Max