Jon Hamm Continues Run as Comedy's Darkest, Handsomest Character Actor as an Archangel In Amazon's Antichrist Comedy
Jon Hamm joins Michael Sheen and David Tennant in "Good Omens."
---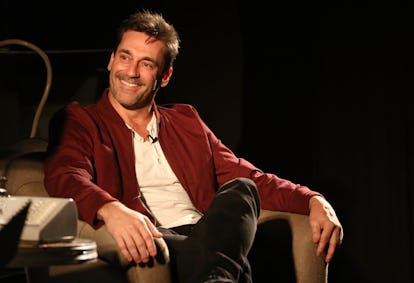 Tommaso Boddi
Since breaking through with his dramatic portrayal of '60s masculinity on Mad Men, Jon Hamm has taken just about any chance he's been giving to pull a 180 and do whatever weird, quirky comedy roll anyone sends his way. Tina Fey calls him up and asks him to play a doctor with a hook hand or a creepy cult leader, and he's like, "Sure, why not?" He's voiced a toilet on Bob's Burgers, played the titular Arthur Childrens on Adult Swim's bizarro Childrens Hospital, popped up on Parks and Recreation as an incompetent bureaucrat, had a recurring role on Wet Hot American Summer: First Day of Camp, and did multiple episodes of Lisa Kudrow's Web Therapy.
Hollywood trades have devoted multiple essays grappling with the possibility of Hamm becoming a full-fledged movie star, but judging by the contents of his IMDb page, what Hamm really wants to do is be a reliable comedy character actor.
So, it is no surprise then that Hamm as signed on for a part in what may be Amazon's weirdest comedy yet.
It's about the Antichrist and the end of the world, naturally.
According to Variety, Hamm will play the archangel Gabriel in Good Omens, an adaptation of Terry Pratchett and Neil Gaiman's very English, joint 1990 novel of the same name.
The miniseries adaptation has already cast the similarly very english Michael Sheen and David Tennant as an angel and demon who represent heaven and hell on earth. The angel, Aziraphale, and the Demon, Crowley (who was also the snake who tempted Eve in the Garden of Eden), have actually come to quite enjoy their quiet lives on earth and their human friends, so they decide it might be best to put off the coming apocalypse. The problem is that they misidentify the boy they believe to be the Antichrist. Hijinks between heaven and hell ensue. The Four Horsemen of the Apocalypse are also involved. So are a 17th century witch and the Devil. Yes, it looks like that kind of thing.
Hamm, as it turns out, is a fan of the original novel.
"I read 'Good Omens' almost 20 years ago," he told Variety. "I thought it was one of the funniest, coolest books I'd ever read. It was also, obviously, unfilmable. Two months ago Neil sent me the scripts, and I knew I had to be in it."
Gaiman will be writing and producing the six-episode miniseries, and promises to beef up Gabriel's part from that depicted in the book.
Michael McKean, Miranda Richardson, and True Detective's Adria Arjona are also on board. In case you're wondering, pictures of Tennant and Sheen in costume have already been revealed.
[#Twitter: https://twitter.com/neilhimself/status/909698756223913984]
Related: A Complete Guide to Recognizing the Internet's Boyfriends in the Wild
See What's Trending in W Video: