Michael Sheen: Keeping It Real
The Welsh actor has a knack for playing real-life characters—and the occasional Lycan.
---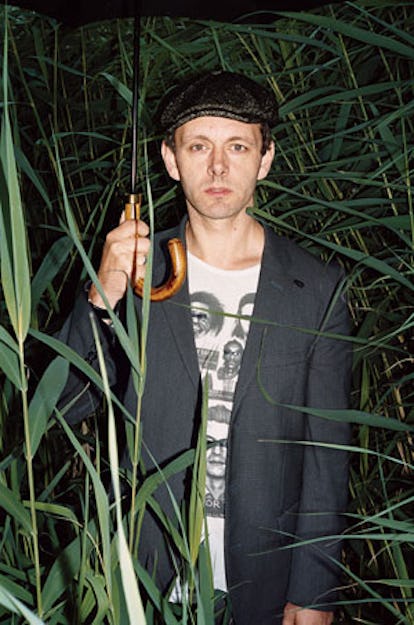 Actor Michael Sheen, who grew up in a Welsh manufacturing town he describes as "urban nightmarish," can't say he has spent much time hanging around royalty. Nonetheless, during his recent visit to Buckingham Palace to receive an honor from Queen Elizabeth for his services to the dramatic arts, everything from the solemn oil paintings to the ketchup-red carpeting felt oddly familiar. "It was quite strange," says the reserved Sheen, perhaps best known for his depiction of Tony Blair in The Queen, the Oscar-winning movie about Blair's dealings with the monarch following Princess ­Diana's death. "I was walking through corridors that we had replicated in the film—and we got it very close," he says with a slight smile.
Dressed in a tweed flat cap, T-shirt and skinny Hugo Boss suit, the dapper 40-year-old is perched on a wooden bench at the edge of a London cricket pitch. Sheen, who loves this particular patch of earth, with its view of St. Anne's Church, has forged a career playing real-life characters, including David Frost in the play Frost/Nixon and its screen adaptation, both penned by Sheen's frequent collaborator, Peter Morgan. In his latest role, in The Damned United, based on David Peace's novel, Sheen portrays Brian Clough, the famously cocky En­glish soccer manager who failed spectacularly during his brief stint at Leeds United in the Seventies. "Whether you were into football or not, everyone knew about him," says Sheen.
The actor drew upon his own soccer tal­ent—he was invited to join Arsenal's youth team as a 12-year-old, but his parents declined—for his part in the film, which garnered glowing reviews in Britain earlier this year. Director Tom Hooper, who years ago saw Sheen perform in Look Back in Anger, says he cast him partly because of his "staggering stage presence." Sheen has also won accolades for his turns as Mozart and Caligula in London's West End. He has a breadth of experience on the big screen as well, where he has been featured as a Lycan master in the Underworld sci-fi movies and will play a Muslim terrorist in the upcoming Unthinkable, but he relishes slipping under the skin of flesh-and-blood characters. "Having an actual person to relate to and reference I find quite liberating," says Sheen, who will revisit the role of Blair in The Special Relationship, another Morgan work about the prime minister's rapport with Bill Clinton. "Michael's preparation is phenomenal," says Hooper. "During filming, he was so like Brian Clough, I found it hard to think of him as anyone else."
Serious acting isn't exactly in Sheen's genes, though his father, a retired human-­resources manager, occasionally works as a Jack Nicholson look-alike, and both his parents love Broadway musicals and Gilbert and Sullivan. "It became clear that you sort of earned points within the family if you performed," he says. Sheen trained at the Royal Academy of Dramatic Art in London and currently splits his time—somewhat reluctantly—between England and Los Angeles. His ex-girlfriend Kate Beckinsale—who left Sheen for her now husband, Underworld director Len Wiseman—has settled in L.A. with her and Sheen's 10-year-old daughter, Lily.
From top: Sheen in The Damned United; in The Special Relationship.
Sheen, whose longtime girlfriend is ballet dancer Lorraine Stewart, says he has a "good working relationship" with Beckinsale, but he's no fan of L.A. "It's a lovely place, but it's not the culture I grew up in; it's not my homeland," he explains. "I do find it quite odd that people want to live in a different country. For me, what makes life enjoyable is having a shared culture and shared references." That sentiment appears to run in the family. On the day he received his honor at Buckingham Palace, Sheen took his parents, Stewart and Lily along. "I told Lily I'd brought too many guests and that one of them had to stay behind and live at the palace," he says. "She volunteered."