Jon Hamm: Commercial Success
As a suave advertising exec on Mad Men, Jon Hamm is finally hitting it big.
---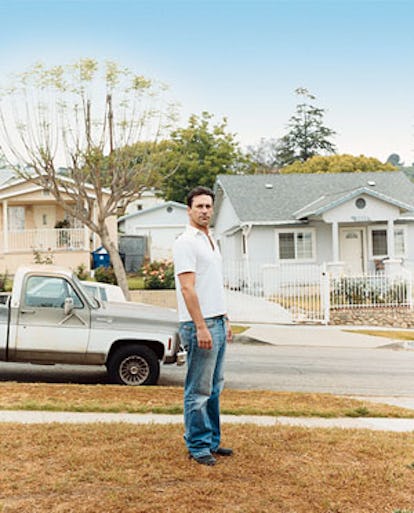 Jon Hamm shows up at a café near his home in L.A.'s Los Feliz neighborhood in jeans, a T-shirt that reads estar guars (Star Wars in Mexican street slang) and a St. Louis Browns baseball cap. It's an ensemble Don Draper wouldn't be caught dead in. The slick, Brylcreemed creative director of a Sixties-era advertising firm portrayed by Hamm on AMC's Mad Men—the role earned him this year's best actor Golden Globe, and the show won best drama—is perpetually clad in a bespoke gray suit, crisp white shirt and narrow tie. In that uniform, Draper has emerged as more than one of the best-dressed men in popular culture. In a sea of nerdy Apatow boys and Oprah-fied touchy-feely types, he is the embodiment of macho individualism.
During the first season of the show—set in Manhattan—it was dramatically revealed that Draper was orphaned as a child and is living under an assumed identity. (The second season debuts July 27.) Hamm, 37, gives glimpses into his character's inner turmoil while maintaining the icy-suave exterior that's made Draper a cult figure. "He's put together this character so subtly," says his costar John Slattery. "Draper does all these less than honorable things, yet he's sympathetic."
Dissimilar sartorial philosophies aside, it turns out there are traits that Hamm shares with his alter ego. He is flawlessly courteous. Though he quit smoking years ago (the show makes liberal use of nicotine-free herbal cigarettes), he likes a stiff whiskey. ("I was a scotch guy for a long time, but I've been on a bourbon kick. It feels a little more cowboy and a little less British.")
And like the self-made Draper, Hamm lost both of his parents early in life. His mother died when he was 10; her dying wish was that he go to St. Louis's prestigious John Burroughs School, where he developed a love of theater after being cast as Judas in a school production of Godspell. But his acting ambitions were derailed at the University of Texas. "High on the priority list were getting laid and getting hammered," he says. Then, in his sophomore year, his father died: "I suddenly had no parents. It was like I had no mooring." He left school and spent an aimless few months in St. Louis before enrolling at the University of Missouri, where he returned to the campus stage.
In 1995 Hamm landed in L.A. He spent the bulk of his days hanging out with other unemployed actors. "It was a good time in L.A.," he says. "It was cheap, a little dingy. But it was fun, and I had a lot of friends who were in the same boat." In 1997 he met Jennifer Westfeldt, an actress and writer who was staging the play that would become the film Kissing Jessica Stein. Westfeldt cast Hamm as the man Jessica falls for; six months later they started a romance that continues today. "We have a dog and a house, and we've intermingled finances," he happily reports.
Only in 1999, after snagging a recurring role on the sappy NBC drama Providence, was Hamm able to quit waiting tables. Other parts followed, and Hamm settled into the life of an anonymous but steadily employed actor. "At the beginning I was like, Wow, I'm actually working now," he says. "But as great as it was, when your show gets canceled, you're back in the pool with everyone else scrambling to get a job."
During one of those scrambles, Hamm came across the Mad Men script by Matthew Weiner, a former writer for The Sopranos. "I picked it up and thought, This title stinks, and it's on some cable channel that's never done anything," he says. But after reading it, he walked into his bedroom and told Westfeldt, "This is the best script I've ever read. I'll never get it." Fortunately for him, Weiner believed the character's secret past would be best served by an actor the audience wouldn't recognize. Seven auditions later, Hamm got the part.
After 13 years of clawing his way into Hollywood, Hamm is still not used to the idea that his agent's phone now rings with more work than he can accept. He recently shot two movies, including this fall's remake of the 1951 sci-fi classic The Day the Earth Stood Still. "It's a strange new world," says Hamm, "to say, 'Ah, sorry. I can't do the movie.'"
Grooming by Diana Schmidtke for Redken/celestineagency.com