Chrissy Teigen and John Legend Donate to #TimesUp in Honor of USA Gymnasts
They dedicated the donation to Larry Nassar's victims.
---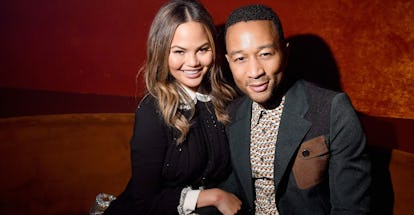 Getty Images
Since it launched just before the Golden Globes, the #TimesUp movement has been gaining a lot of attention — and a lot of money. A GoFundMe site for the movement had earned more than $19.3 million toward its $19.5 million goal as of January 28. And while it's a powerful cause on its own, one donation has a little extra meaning.
According to Glamour, Chrissy Teigen and John Legend donated $200,000 to the cause in honor of the USA Gymnastics Team. The donation comes just after former USA Gymnastics doctor Larry Nassar was sentenced to 40 to 175 years in prison for criminal sexual conduct, and after more than 150 women — many of them Team USA gymnasts — accused Nassar of ongoing sexual abuse.
Glamour reports Teigen and Legend's donation, made on Saturday, was an offline donation, but said their names and purpose in the attribution.
"Chrissy Teigen and John Legend on behalf of the heroic gymnasts of the USA Gymnastics Team," the attribution read.
This isn't the first time Teigen has showed support to the gymnasts and other survivors speaking out against Nassar. Before a statement from McKayla Maroney was read in court on her behalf, Teigen tweeted that Maroney was bound by a non-disclosure agreement after Nassar settled a sexual abuse claim, barring her from speaking out against Nassar. In the tweet, Teigen offered to pay any fine Maroney incurred should she break that non-disclosure agreement.
"The entire principle of this should be fought – an NDA to stay quiet about this serial monster with over 140 accusers, but I would be absolutely honored to pay this fine for you, McKayla," she tweeted.
That fee would have been $100,000, Time reports, so it seems Chrissy did one better with the #TimesUp donation.
Related: What's Next for Time's Up According to Tina Tchen, the Powerhouse Lawyer Behind the Famous Faces